Community invited to restore Tathra Headland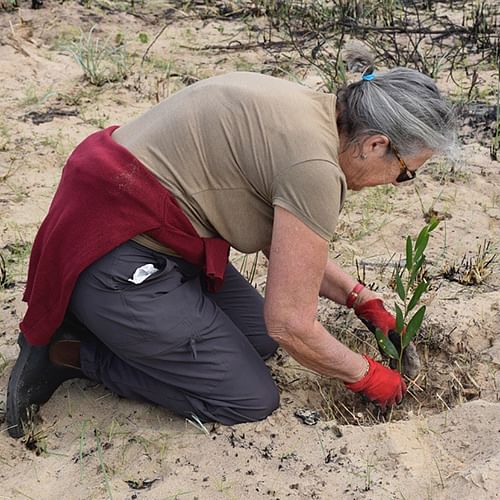 15 October 2018
The community are being invited to a 'Community Planting Day' on Saturday 20 October, to assist in the restoration of Tathra Headland Reserve, that was badly affected by the March bushfire.
As part of the Green Shoots campaign, the Community Planting Day, which is being held from 9.00am until 12.00pm, will not only aid in the recovery of this popular natural area, but offer an opportunity for locals and tourists to get involved in Tathra's recovery.
Council's Acting Environment and Sustainability Coordinator, Michael Fiedler, said Council is pleased to be partnering with the Tathra Lions Club and Tathra Landcare to host this event, as the restoration of this significant site continues following the removal of fire affected vegetation in September.
"The Planting Day will aid in the recovery of the site through the replanting of plants that are native to the local environment, and will enhance and retain the natural character of the area", Mr Fielder said.
"This event is a great opportunity for locals, community groups and visitors to be involved in Tathra's fire recovery.
"Everyone is invited to come along and get their hands dirty by planting some native seedlings, and a free BBQ will help keep people going throughout the morning".
This Planting Day is part of a broader restoration program that Council is undertaking of the natural areas at the headland, which will ultimately result in the re-establishment of the native plant community.
Those wanting to participate are asked to meet at Tathra Headland Reserve at 9.00am, and are encouraged to bring a hat, sunscreen and gloves.
For more information contact Council's Acting Environment and Sustainability Coordinator on (02) 6499 2222.
Photograph: Restoration of Tathra Headland Reserve begins.
Related Pages
Community invited to restore Tathra Headland
---
Rate This Page
---
Share This Page