Funding boost for Lake Street Trail
22 April 2020
The proposed Lake Street shared trail in Merimbula has taken a huge step forward with the announcement the State Government is committing a further $1.74 million to the project.
This new allocation takes the total State contribution to $3.74 million and means Council can now move forward into the contractor procurement phase.
Long championed by the Bureau of Accessible Tourism (BOAT) group, the shared trail will provide pedestrians, joggers, parents with prams, cyclists, and those with disabilities and mobility devices, with a safer off-road alternative along Lake Street when completed.
The design endorsed by Council is for a shared trail that is 900 metres long and 2.5 metres wide and will comprise concrete on ground and elevated timber boardwalk sections. The trail will extend from Cliff St intersection in the North of to the bus stop above Bar Beach in the South.
Connecting accessible links to areas of interest such as the ever-popular Bar Beach and Rotary Park may be considered in the future subject to Council priorities, resources and funding.
Council's Manager Project Development, Daniel Djikic, said the project would be another boost to the local economy that has been under pressure following the fires.
"Tenders for the construction are set to open at the beginning of May and we are strongly encouraging our local contractors to put forward their proposals," Mr Djikic said.
"We would really like to see construction commence in August this year, with the build expected to take six to nine months to complete.
"Plans are for Lake Street to be reduced to one-way throughout construction to save costs and prevent the need for manned traffic control."
For more information on Council projects visit www.begavalley.nsw.gov.au/major-projects
Photograph: The Lake Street shared trail in Merimbula has received another funding boost thanks to the State Government.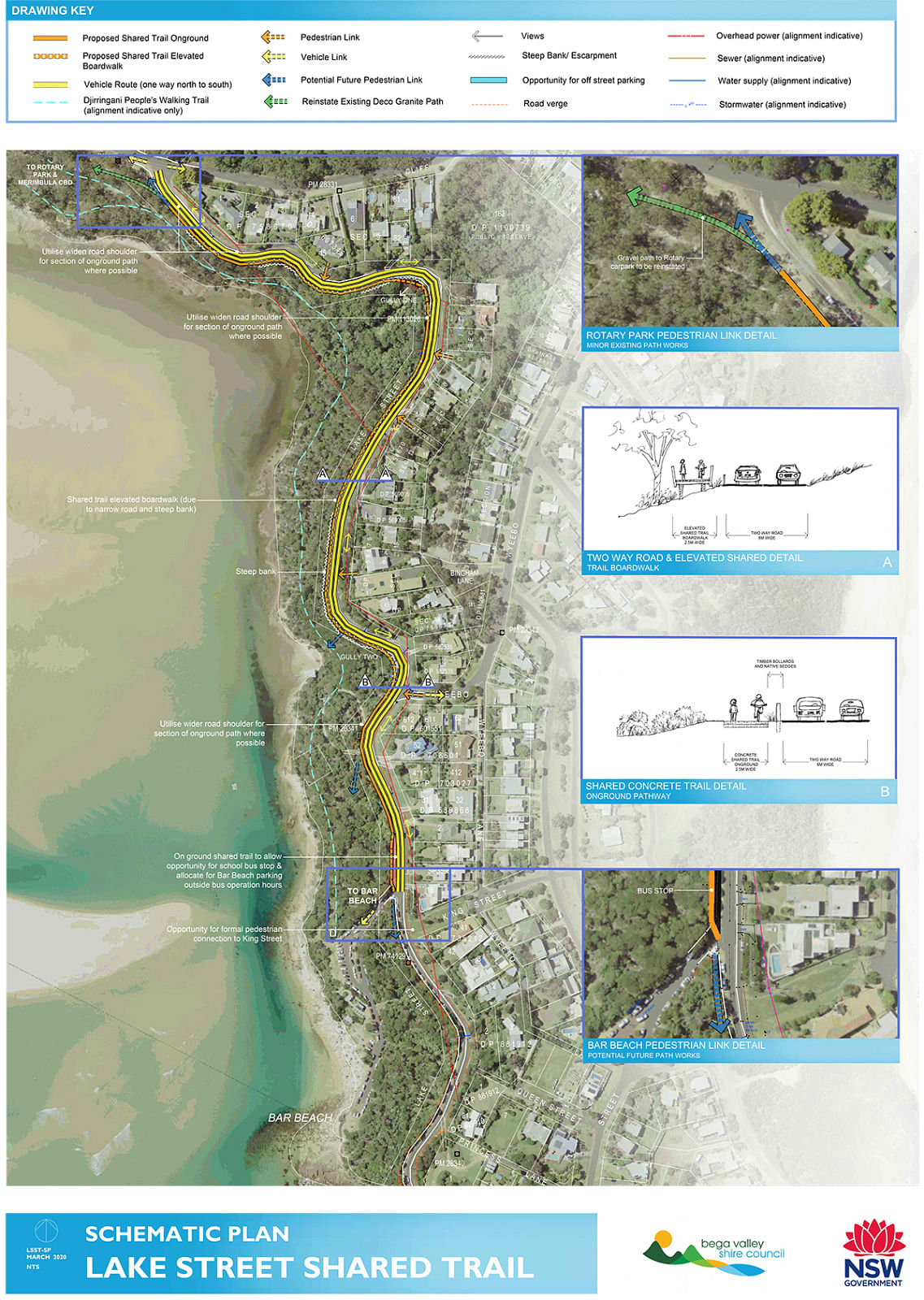 END
Related Pages
Funding boost for Lake Street Trail
---
Rate This Page
---
Share This Page