Erosion control and stabilisation work continues at Main Beach, Merimbula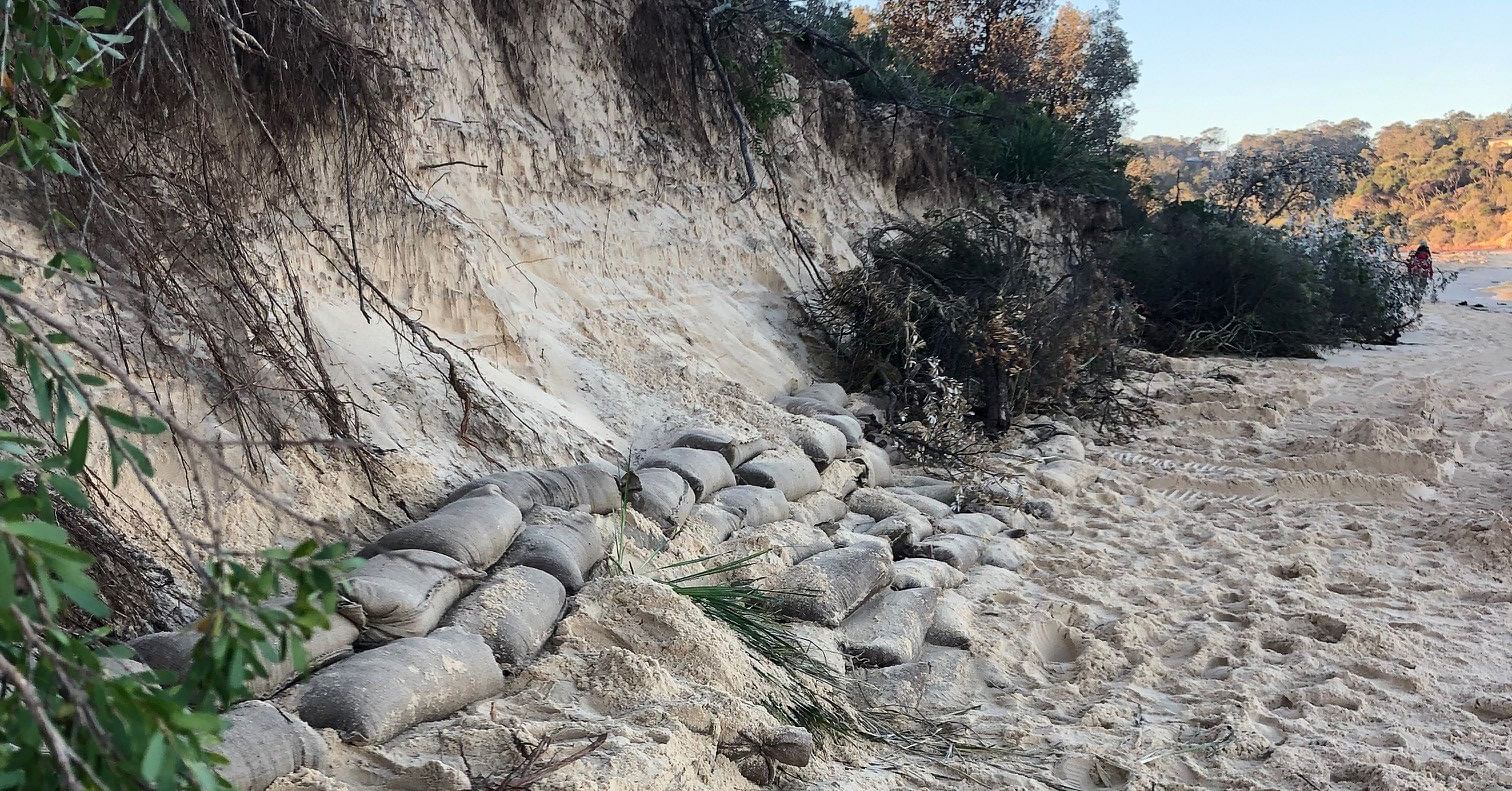 Photo: Fallen vegetation is being used to stabilise dunes at Main Beach Merimbula in the short-term.
Wednesday, 6 May 2020
Council is working to stabilise dunes and infrastructure at the northern end of Merimbula's Main Beach as large ocean swells continue to play havoc, heavily eroding the beach between Mitchies Jetty and Ford Park.
Director, Community, Environment and Planning, Alice Howe said movement of sand was a natural process, with sand moving offshore during storm events and back on shore during calmer weather.
She said Council was working to implement erosion control and sand stabilisation measures including taking steps to protect the viewing platform and the access track and to prevent further slumping of the lower section of eroded dune scarp.
"Last weekend's large and powerful swells heavily impacted the area and the protection work that had been done to date. Crews are continuing to work with a mix of sand bags, coir logs and fallen vegetation as a short-term measure to help stabilise the dune from waves and wind, encourage sand deposition and protect infrastructure on the beach; in particular the viewing platform at the northern end of the beach," said Dr Howe.
"We now need to wait for sand to start to accumulate again and an increase in beach width before we can get in there and do any additional works.
"At the moment anything else we put in will likely wash away; that's why we have continued to work with sand bags and vegetation which will break down over time."
She said access continued to be dangerous and, while the work continued, the path would remain closed and people should enter the beach from further south at Ford Park.
"Due to the large amount of sand lost it may be some time before access can be reopened," Dr Howe said.
"Our longer-term plan is to enhance the resilience of our dunes by removing weeds, minimising access to protect coastal vegetation and encouraging our community to look after these important natural systems."
"We all love the environment in which we live, so we understand the distress and concern these events have for residents. We approach this work wanting to work with and support natural processes. That gives us the best chance of helping to re-establish a more resilient coastal environment we can all enjoy, now and in the future."
More information about the work Council is doing on dune enhancement across the Shire can be found on the project page
END
---
Rate This Page
---
Share This Page