Council pursues roads funding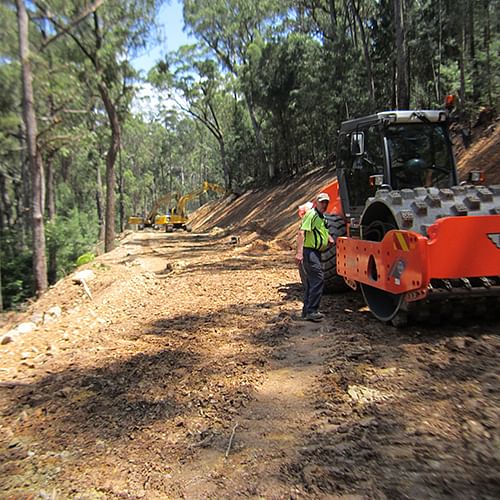 11 September 2017
Council's commitment to improving our roads network remains strong, with a number of key projects the subject of recent State Government grant applications.
Seeking external funding is critical, as our present funding levels are insufficient to continue to provide existing services at current levels in the medium to long term.
The Safer Roads Program is a key initiative of the NSW Road Safety Strategy, aiming to make state roads safer and reduce crashes on the road network. This program provides treatments where there are clusters of crashes on local and regional roads. This is achieved by implementing engineering treatments and countermeasures.
Under this program Council is focussed on improving safety outcomes for the Mount Darragh Road, where four projects involving 16 crashes were identified. Council's submission for risk reduction measures is valued at $420 000 and includes funding for new guardrail, delineation markers, line marking of intersections and curve advisory signage.
Elsewhere Council has made submissions valued at $23.7 million for five projects under the Fixing Country Roads program. The key objective of the program is better connecting local and regional roads to state highways and key freight hubs, thus improving efficiency and lowering costs for businesses.
Council's five identified projects are:
Improvements to the Imlay Street/Albert Terrace intersection in Eden and associated improvements to Albert Terrace down to the wharf including the creation of an alternative heavy vehicle route to the Port of Eden.
The sealing of a 1.6km section of Tantawangalo Mountain Road.
The sealing of West Kameruka Road.
The sealing of Doctor George Mountain Road.
The sealing of Towamba and Burragate Roads.
Council's Director of Transport and Utilities, Terry Dodds, said it was encouraging that the submissions had received such broad support.
"Our applications have certainly been bolstered by letters of support from the Member for Bega and NSW Minister for Transport and Infrastructure, Andrew Constance; the Canberra Region Joint Organisation; Regional Development Australia; National Parks and Wildlife Service of NSW; Chambers of Commerce and Progress Associations; transport and small business operators; and members of the public," Mr Dodds said.
"It is vital that Council apply for grants in order to continually improve our infrastructure and ensure that our roads and bridges do not restrain our transport network.
"It is also imperative that our people, freight and destinations are connected to enable travel in, out and around the Shire in a way that is safe, accessible and environmentally sustainable," Mr Dodds said.
The outcome of Council's submissions will be known in the coming months.
For more information contact Terry Dodds on (02) 6499 2222.
Photograph: Council is seeking funding under the Fixing Country Roads program to seal Towamba Road.
END
Scroll down to Like | Share | Comment on this page
---
Rate This Page
---
Share This Page
---