Help stop illegal trade of prohibited water weeds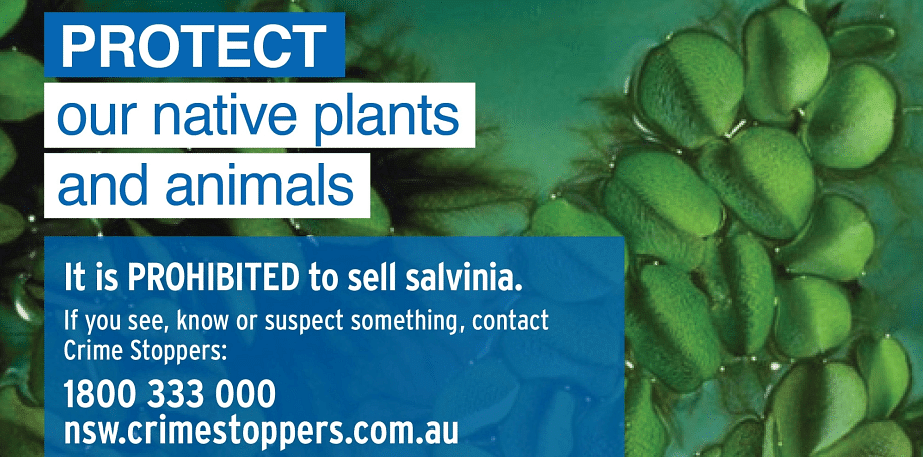 9 September 2020
Bega Valley residents with information about the trade of invasive plants and water weeds can now report it in confidence to Crime Stoppers.
Trading water weeds like frogbit, salvinia and water hyacinth is illegal and can be catastrophic to the local environment. These water plants grow quickly, block waterways, reduce water quality, and can cost hundreds of thousands of dollars to control.
Council's Biosecurity Invasive Species Coordinator, Jamie Dixon-Keay said online trading in these prohibited plants was significant and must be stopped.
"People put weeds like water hyacinth and salvinia in aquariums, frog ponds and water features in their backyard, which is a really big issue, as they grow like crazy and sometimes get dumped into a waterbody," he said.
"These water weeds know no bounds - they can establish anywhere. We have had couple of infestations here in the Bega Valley and they're very costly to try and get on top of."
It is illegal to grow and propagate certain invasive plants and water weeds. Penalties of up to $1.1 million and three years in jail are in place for individuals found to be selling them.
"If anyone sees these plants being sold online, they can report it in confidence to NSW Crime Stoppers online or call 1800 333 000," Mr. Dixon-Keay said.
"It's really important that our community plays a role in helping to stop the trade of these plants, as they put our environment and economy at real risk."
The prohibited plant trading campaign is a partnership between NSW Local Land Services, NSW Department of Primary Industries (DPI) and Crime Stoppers.
For more information, visit the NSW DPI website.
---
Rate This Page
---
Share This Page