Tony Allen calls Cobargo Showground home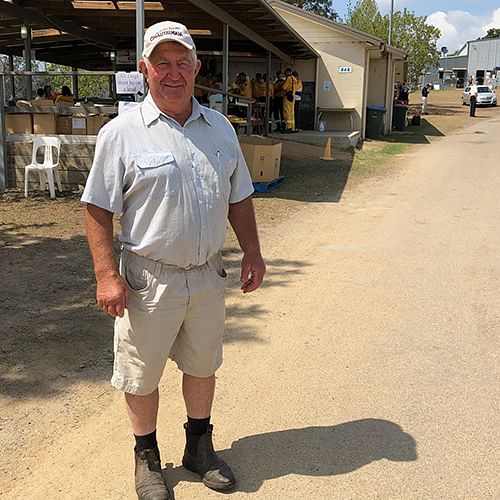 28 January 2020
What goes through someone's mind when they're fighting to protect their property or farm, their heritage, their future and legacy - their life!
What are they thinking when they know that across the paddock one of their sons is fighting for the same thing? Is there even time to think or feel anything but stark fear and adrenaline as the bushfire threatens?
So many people throughout our shire can answer those questions from direct experience over the last few weeks. They know what it's like trying to survive and doing the best they can in an unimaginable and horrific bushfire situation.
Councillor Tony Allen knows it too.
He's a man of the land, from a 4th generation family of dairy farmers on a property out Yowrie way.
Cr Allen says he was lucky where the embers fell - none landed on haystacks. He'd previously gathered his herd around the dam and, with his son Rocky, kept patrolling his property putting out fires as the last day of 2019 dawned.
In the immediate hours and days after the Badja Forest Road fire* ripped through the forest and farmland of Yowrie and Wandella and then through the village of Cobargo, locals sought out each other and refuge at a place they were familiar with – the Cobargo Showground.
Like many in his community, Cr Allen found himself gravitating towards the showground too.
Indeed, the showground quickly became a haven for people from the village and from the surrounding localities of Yowrie and Wandella as well as visitors to the area.
Talking to Cr Allen recently, it's clear that the first days of 2020 are as blurry for him as the smoke that clouded the horizons across the Shire. The passage of time is inconsequential when you're fighting a bushfire, staying alert for ember attacks, worrying about loved ones and concerned for the community your family has been a part of for generations.
With more and more people gathering at the showground in need of shelter, food, clothing and solace, it became clear that some level of organisation would be needed and as what happens in these situations, locals quickly rose to the challenge of turning the showground into a bushfire relief centre.
"I was asked to facilitate a meeting called to arrange some sort of structure for managing the relief centre at the showground," explained Cr Allen.
People sheltering at the showground were given the option of moving on to an evacuation centre at Bega; they listened to the options but as Cr Allen explains, "they weren't going anywhere, here's home."
At the busiest time, Cr Allen estimates there were at least 100 people at the relief centre.
"People turned up here without even a toothbrush."
Some people still have houses but when there is no electricity or other facilities, then the relief centre is a hub where people can gather, share their stories and support each other.
"This is about humanity - keep people together, that's what we're doing," he says.
"If you're in trouble, we're here to help, this is a relief centre for everyone.
"This place will be open until the last person leaves."
The relief centre evolved organically supported by Alfredo la Caprara and Dave Rugendyke who were there during the setup phase before a more formal management committee could be put in place. In addition, a whole bevy of local and interstate volunteers, organisations and other community groups have collaborated to make it work for the many evacuees relying on the service.
Cr Allen thanked the NSW Police and soldiers from the Australian Defence Force for their wonderful support.
In addition, Eastwoods Deli and Cooking School in Bermagui have been working with the World Central Kitchen to help with providing meals not only at the relief centre but also for Quaama and Mogo.
There is a store at the showground, run by volunteers, that makes donated food and other products available to people, and Chris and Danielle keep the office open six days a week as a collection and dissemination point for information, goods and services.
With things ticking along at the relief centre, Cr Allen says that the challenge now is for the future of farming and food security.
He worries that some farmers won't be able to come back from the bushfires; they've lost machinery, stock, buildings, perhaps their home and loved ones.
Much courage has been shown by the people of Cobargo, Yowrie and Wandella as they rally to support each other through the loss of lives, property, livelihoods, businesses and treasured possessions.
"This will be the most powerful community," Cr Allen says proudly.
*The Badja Forest Road fire also impacted the communities of Quaama, Verona, Coolagolite and surrounding areas on 31 December 2019.
This story is one of a series on Bega Valley Shire councillors and their experiences of the bushfires that have featured across our landscape over the 2019/2020 summer.
You can contribute to Cobargo's future by donating to one of the following:
Cobargo District Emergency Hay Fund
Bendigo Bank BSB: 633 000 Account: 171138555
Cobargo Bushfire Relief Fund
Bendigo Bank BSB: 633 000 Account: 171210016
Bega Valley Community Disaster Relief Fund
Bendigo Bank BSB: 633 000 Account: 171166317 IBAN: BENDAU3B
Related Pages
Tony Allen calls Cobargo Showground home
---
Rate This Page
---
Share This Page