COVIDSafe Libraries and Aquatic Centre reopen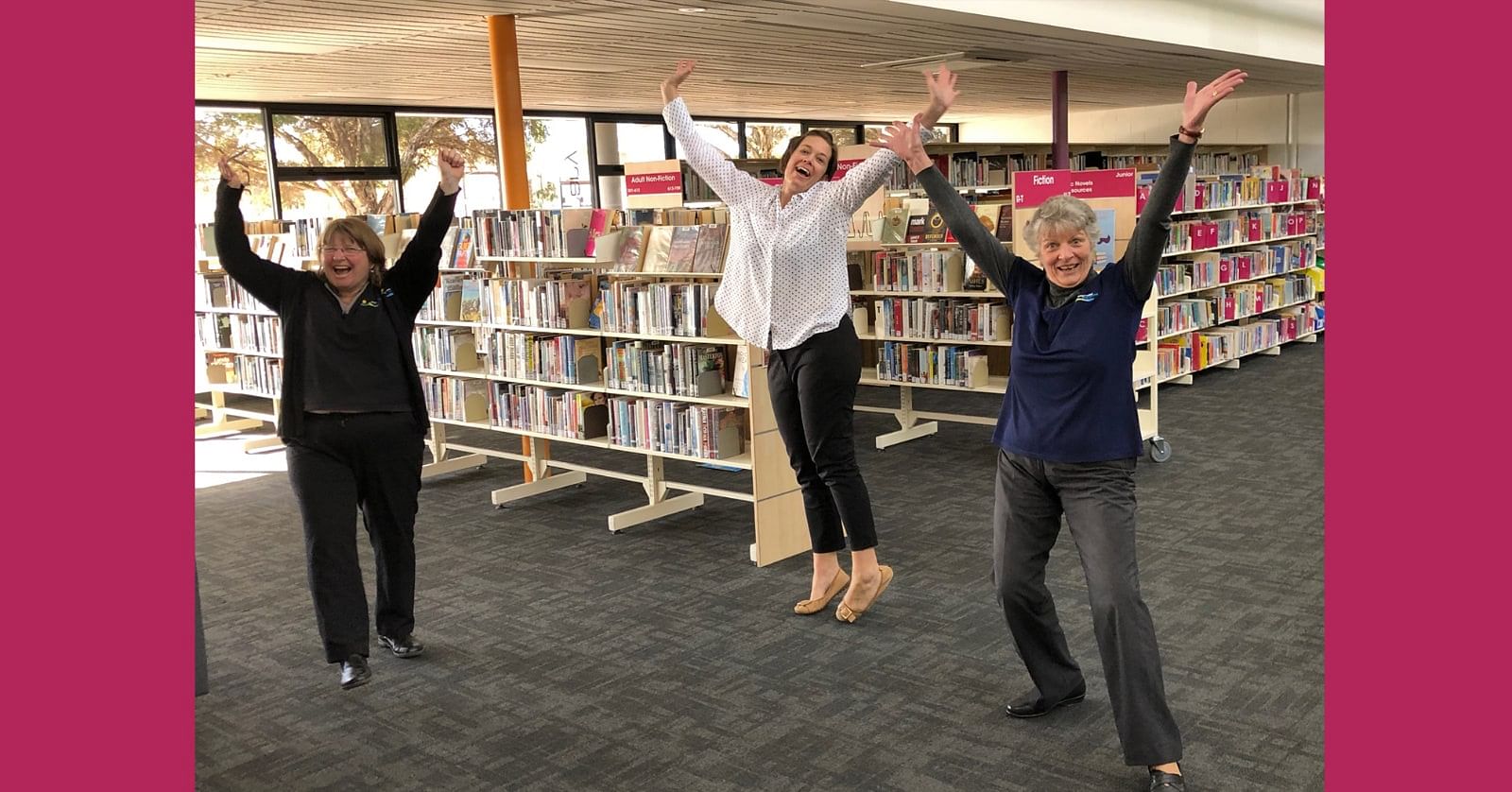 Photo: Vicki Buckley, Jayde Timms and Anne Moore from Bega Valley Library Service are jumping for joy as COVID-19 restrictions ease and libraries reopen from 15 June.
Friday, 12 June 2020
The Bega Valley Shire Library Service at Bermagui, Bega, Tura Beach and Eden will reopen from Monday (June 15) as the health advice around COVID-19 moves forward. Bega Valley swimmers are also celebrating with Sapphire Aquatic Centre (SAC) at Pambula able to reopen from 15 June as well.
"It feels good to be getting back to a sense of normal and being able to welcome people back into our libraries again," said Library Services Coordinator, Megan Jordan-Jones.
"We've put in place a number of measures to remain COVIDSafe and support the health of our community and staff."
From Monday, 15 June libraries will reopen within the following COVIDSafe guidelines:
Self-service loans only, bring your card with you, staff will be available to help people with special needs and new users of the self-service kiosks.
Limited public computers, maximum one hour use per day
Printing from mobile devices is now cashless
All visitors to the library must sign in for contact tracing
Enhanced cleaning regime for patron and staff safety
No public programs or room bookings
Book quarantine for four days followed by sanitising
New opening times will allow for additional cleaning procedures:
Mon- Fri 10am-5pm Eden (closed Mon), Tura and Bermagui (closed Wed),
Mon-Fri 10am-5.30pm Bega
Sat 10am-1pm all libraries
"I am so proud of the work the library team has done in recent months to continue to provide a service and maintain a connection with our community through our new website," Ms Jordan-Jones said.
"We will hang on too many of those initiatives, but we know many patrons are busting to be back in their library again and we are looking forward to welcoming them on Monday."
In line with the advice from NSW Health, the reopening of facilities at Sapphire Aquatic Centre will be a staged process. With the pool, gym and morning squad to re-commence initially, with other programs and services to reopen at a later date.
Other COVIDSafe initiatives at SAC include:
Increased cleaning processes, physical distancing markers, posters and customer recording for contract tracing purposes.
Maximum of 10 people per swimming pool, with a booking system in place for pool and gym use. Call 6494 3100 or email info@sapphireaquatic.com.au to check availability and make a booking. Bookings will be allowed one day in advance.
Reduced use of change facilities, please shower and change at home where possible.
"We are excited to be able to re-open SAC and a lot of planning has gone into ensuring we can do so safely and in compliance with NSW Government requirements," said Nicholas Hoynes, Aquatic and Leisure Facilities Coordinator.
"We appreciate that there will be changes to how the centre normally operates, but we ask that all visitors please be respectful of staff and comply with these changes to ensure everyone has the opportunity to have a safe and enjoyable visit."
This next step in our community's COVID-19 experience also allows for:
Community halls to open, but only for three purposes; to provide a service to assist vulnerable members of the public, for counselling and support group services, or as an early education and care facility.
Bega Valley Commemorative Civic Centre and Bega Valley Regional Learning Centre - entry to these venues is by appointment, booking or prior event registration only. Internal Council and tenant meetings are permissible, as are activities that assist vulnerable members of the public, for counselling and support group services, or as an early education and care facility. Call each venue for further advice on 6499 2462 (Civic Centre) or 6499 2113 (Learning Centre).
General Manager, Leanne Barnes has thanked the community and Council staff for their patience and adaptability.
"We are in an extraordinary time in our history, but we can be proud of the way we have responded and the results of that," Ms Barnes said.
"The overarching message with all of these changes is the ongoing importance of physical distancing and good hygiene."
For more information on Council's COVIDSafe services check Council's website.
END
---
Rate This Page
---
Share This Page