Temporary works complete at Wandella Hall site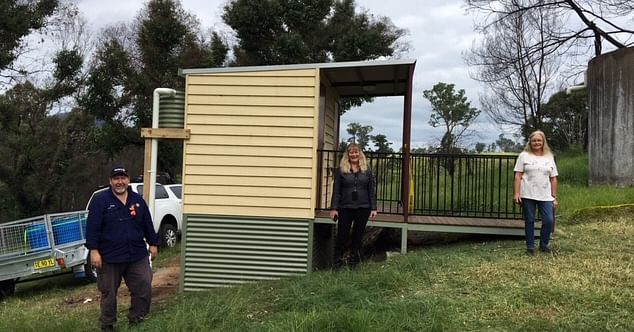 Photo: Andy Thorp, President of Rotary Club Merimbula, Bega Valley Shire Council's Katrina Berenguer and Joy Masterson of the Wandella Hall Committee pictured outside the Wandella Hall toilet facility.
Friday, 17 April 2020
There's positive recovery progress at the Wandella Hall site with the completion of temporary restoration works to the hall's external toilet facilities. The works are part of a larger project being funded by the Rotary Club of Merimbula that will also include the permanent restoration of the barbecue facility.
The toilet facility survived but power and water supplies were cut when the hall was destroyed in the summer bushfires. The toilets are needed for use by contractors working in the area clearing building sites and performing property restoration work in the wake of the fires.
Acting Cemetery and Halls Officer, Katrina Berenguer said the project was a partnership between Council and the Rotary Club with support from members of the local community.
"A new water tank has been installed to provide water for handwashing as well as solar power to allow operation of an exhaust fan for the composting toilets," Ms Berenguer said.
"Work on the barbecue area will begin once current COVID-19 restrictions are lifted sufficiently."
Ms Berenguer said support from local suppliers had been very positive.
"We've had tremendous support and want to thank Steeline and Mitre 10 at Pambula for their prompt service and the consideration they have shown Rotary and the Wandella community when pricing materials."
Demolition of the hall will begin on Wednesday, 22 April. Council has commenced the tender process for the rebuilds for both Wandella and Kiah halls, which will include community consultation on the design.
END
---
Rate This Page
---
Share This Page