Tathra to Kalaru bike track at Evans Hill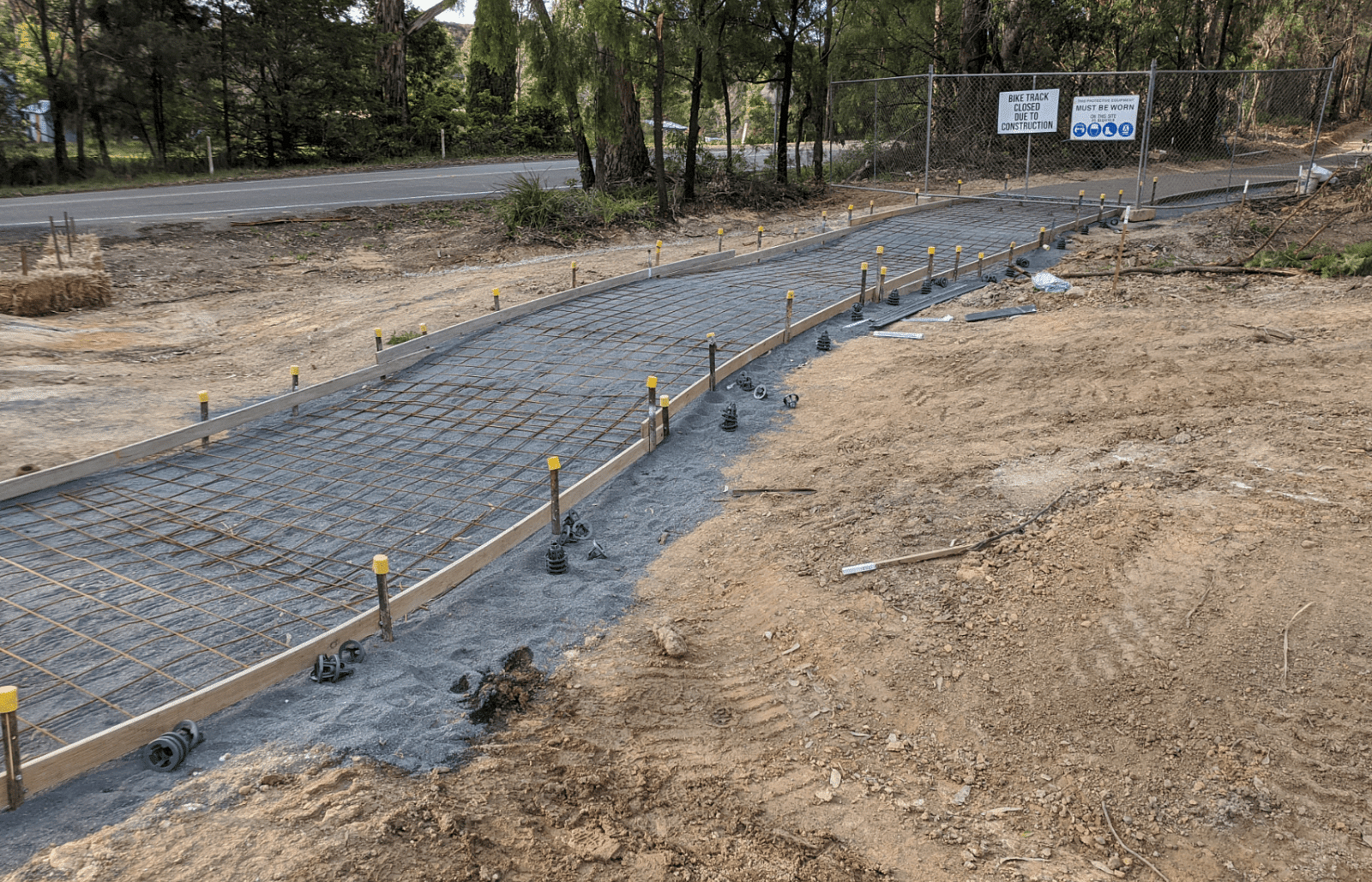 24 April 2020
Work on the Tathra-Kalaru reinforced concrete bike track is now in progress at the base of Evans Hill, heading towards Tathra.
Design Engineering Coordinator, Shaun Bell says with the finalisation of land acquisitions, John Michelins and Son have commenced the next phase of the project.
"The site has been cleared and path construction is well underway, with the aim of having that part of the track completed in August," Mr Bell said.
"The track up Evans Hill is fairly steep, due to the topography of the land. The steepest section goes for approximately one kilometre, which may put a little sweat on the brow going up."
The bike track will connect Tathra to Kalaru travelling adjacent to Tathra Bega Road using the partially cleared watermain easement.
Beginning near the bus stop in Kalaru, to date a combination of contractors Michelins, Guidelines and RD Miller have completed around 835 metres of the 2.5 metres wide track, which includes two pedestrian bridges, road crossings at Sapphire Coast Drive and Evans Park, and 190 metres of kerb and gutter in Kalaru. A further 500 metres of the track is prepared ahead of concreting.
Mr Bell said planning and design of the next phase of the track is also underway, which will connect Tathra Primary School via Lawrence Park.
"For locals, cycling has taken on a new life and many of our visitors are coming to the Shire with their bikes in tow to experience the beautiful Bega Valley and Sapphire Coast from two wheels," Mr Bell said.
"There are a lot of benefits to cycling, including social and recreational, health and fitness, commuting and environmental reasons."
The Tathra-Kalaru Bike Track is funded under a $3 million grant from the NSW government and represents the first stage in creating a cycle network between Bega and Tathra.
The Bega Tathra Safe Ride community group helped secure the funding and the bike track has strong support from surrounding communities.
Photograph: Work in progress on the Tathra-Kalaru Bike Track; currently on Evans Hill.
---
Rate This Page
---
Share This Page