Young Bega woodturner secures DFAT order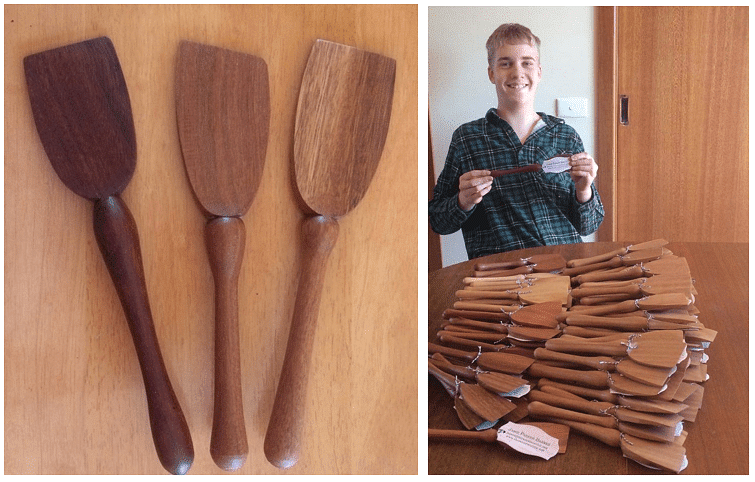 10 July 2020
Following Council's submission to the Department of Foreign Affairs and Trade (DFAT) product purchasing program earlier this year, 14-year old Jamie Parker-Barnes from Bega recently provided DFAT with 100 hand-turned wooden spatulas, to be used as gifts for special guests at public diplomacy and cultural programs overseas.
Jamie, a talented woodturner and woodworker, first started doing woodworking classes with Jo Saccomani at Two Sheds in Bega and it quickly became his favourite pastime.
Four and a half years later Jamie still attends the Two Shed classes, fine-tuning his woodwork skills and learning about the beauty and boundless possibilities of wood craft.
In 2019 Jamie looked towards woodturning; something he just 'knew' he would love and found a DVD at the library by an Australian woodturner.
After much arm twisting, he was able to convince his father to buy him a small wood lathe for Christmas, and it was immediately clear that he just 'got it' - he had the skill to turn wood into beautiful things.
When the DFAT request arrived, Jamie suggested the best product was his spatulas, which are made from offcuts and discarded wood from other projects. DFAT agreed and returned with their order.
The DFAT program is a way of supporting bushfire affected communities and to promote Australian excellence overseas.
---
Rate This Page
---
Share This Page