Household Chemical CleanOut expands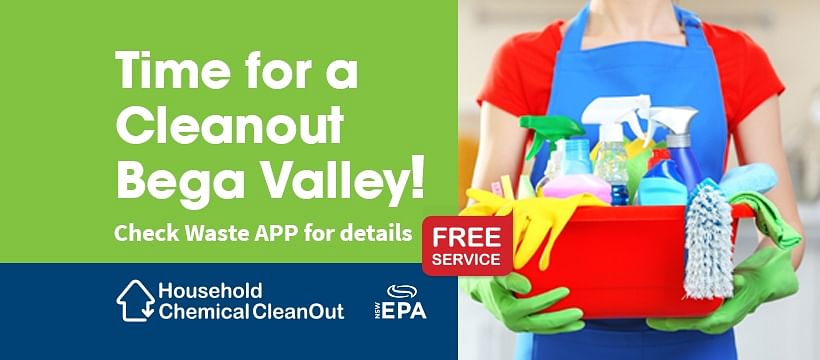 13 August 2020
Bega Valley's annual Household Chemical CleanOut weekend on 29 and 30 August is expanding to include an Eden drop-off site and trade painters.
Bega Valley Shire Council coordinates cleanout days with support from the Environment Protection Authority so householders can dispose of unwanted items such as chemicals, paints, batteries, gas bottles and oils for free.
This year people can take their items to Eden Waste and Recycling Centre and Merimbola Street car park in Pambula on Saturday 29 August or Bega Saleyards and Bermagui Waste and Recycling Depot on Sunday 30 August.
Bega Valley Shire Council waste strategy coordinator, Joley Vidau said this year trade painters could drop off up to 100 litres of paint thanks to Paintback, an initiative designed to divert unwanted paint and packaging away from landfill.
"This is the first time the cleanout days have specifically targeted trade painters and provided an opportunity to dispose of higher quantities of paint," Ms Vidau said.
"In the past only 20 litres could be disposed of, which has now been extended to 100 litres per customer. We encourage local tradies to take this up and dispose of those leftover or old tins of paint they aren't ever going to use."
Ms Vidau said Council had also added Eden as an extra drop-off location after community feedback last year.
"Household chemical cleanouts are a great way to safely dispose of items that seem to accumulate underneath your kitchen sink or in the garage," she said.
"We have these days every year and really encourage our community to drop these items off for free and prevent them from ending up in landfill."
People can drop off household quantities of the following household chemicals and items – up to a maximum of 20 litres or 20 kilograms of a single item, except paint which has been increased to 100 litres. All paint must be secured in containers of 20 litres or less.
Solvents and household cleaners
Floor care products
Ammonia-based cleaners
Pesticides and herbicides
Poisons
Pool chemicals
Hobby chemicals
Motor fuels
Fluorescent globes and tubes
Acids and alkalis
Smoke detectors
Paint and paint-related products
Gas bottles
Fire extinguishers
Car and household batteries
Motor oils and cooking oils
Related Pages
Household Chemical CleanOut expands
---
Rate This Page
---
Share This Page