Community Tours of Merimbula Sewage Treatment Plant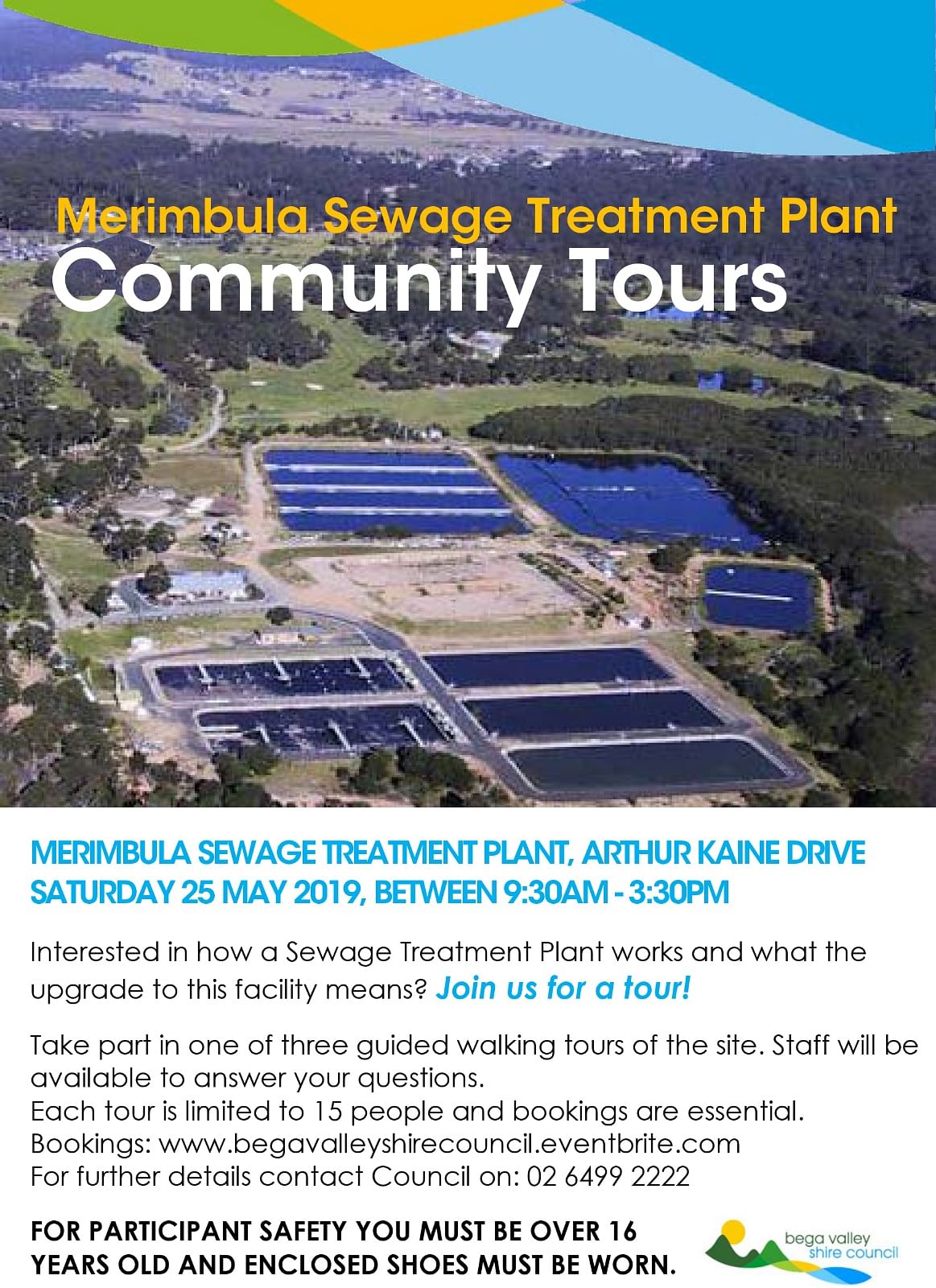 14 May 2019
Bega Valley Shire Council is opening the gates of the Merimbula Sewage Treatment Plant (STP) on Saturday 25 May and invites locals to book into one of three tours of the site happening throughout the day.
To book into a Merimbula STP tour on Saturday 25 May go to www.begavalleyshirecouncil.eventbrite.com
This is a rare opportunity to take an inside look at one of Council's ten sewage treatment plants and to find out what happens after you flush your toilet, do your washing, have a shower or bath, run your dishwasher or wash your hands. Where does it all go?
Water and Sewer Services Manager, Jim Collins, says that on average about 700 million litres of sewage ends up at the Merimbula Sewage Treatment Plant each year!
"There's been a lot of community interest in the Merimbula STP lately due to the upgrade project so we're offering behind-the-scenes tours where people can see the plant in action and ask questions," Mr Collins said.
Tours start at 9.30am, 12.00pm and 2.30pm and each identical tour will take one hour.
Council's Environmental Education Officer, Natalie Ryan, will lead each group around the site where you will be able to see inlet works screening, aeration tanks and catchment ponds, as well as the sludge lagoons and drying beds.
Due to safety reasons, the tours are for adults only and bookings are essential. Numbers are strictly limited per tour. If you find you can't make your booking, then be sure to cancel it or let us know so we can offer your place to someone else.
Participants must wear sturdy closed shoes. It is recommended to bring sun protection and a drink bottle.
If you have any questions, you can contact Ms Ryan on (02) 6499 2222.
Related Pages
Community Tours of Merimbula Sewage Treatment Plant
---
Rate This Page
---
Share This Page