Merimbula - Lake Street Shared Path
The original aim of the Lake Street Shared Path project was to construct a shared-use path adjacent to Lake Street, Merimbula from Rotary Park to Merimbula Wharf via Bar Beach.
One of the key outcomes of the project is to make Merimbula a more access friendly place for all residents and visitors to the area which aligns with the Bega Valley Shire Council's Delivery Program and Operational Plan - An Accessible Place:
"A2 - Facilities and services: Our infrastructure, facilities and services are strategically planned, located, designed and maintained to meet our local and visiting community needs."
The project also aligns with the Vision and Goals and Short Term Priority proposals of the Bega Valley Bike Plan.
The project will connect the existing cycle paths that begin at Pambula Beach, traverse through Pambula, beside Arthur Kaine Drive and Merimbula Airport, and through the CBD of Merimbula to Spencer Park and Bar Beach.
The shared path is proposed as an all-access, shared-use walkway, for use by pedestrians, joggers, parents with prams, cyclists, disabled and mobility devices.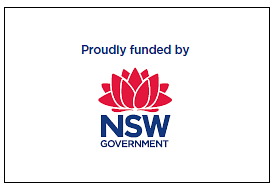 The project is to be entirely funded by a $2,000,000 grant from the NSW State Government under 2017/18 Active Transport Funding and will be managed by Bega Valley Shire Council's Assets and Operations.
After community consultation, Council resolved on 13 June 2018 to proceed with Option G – modification of Option B with reduced path length from Rotary Park to Bar Beach.
Council staff submitted a formal variation to our funding partner, NSW State Government, for the change to the scope. The variation was accepted, allowing project staff to commence the next steps which included a formal cost estimate, detailed design, and the extensive studies into the environmental, cultural, and heritage impacts as well as Crown land approvals.
The delivery of this project is still dependent on obtaining all necessary approvals before the funding cut-off date of EOFY 2020-21.
Works to date include:
Consultation with Merimbula community group Bureau of Accessible Tourism (BOAT).
Thompson Berrill Landscape Design (TBLD) has been engaged as design consultants of this project. TBLD are partnering with a Merimbula based engineering business and will be supported by a local ecologist and traffic engineer, quantity survey and 3D animation businesses based outside the Shire.
TBLD has provided a feasibility study of options which details three potential options, construction costs, and constraints.
The three options were placed on public exhibition and a survey conducted on the preferred option - View the survey results here

Council resolved to move forward with Option G – a truncated version of option B, which includes a pathway on the edge of Lake Street from Spencer Park to Bar Beach.

Council staff request formal variation to project scope. Our funding partner, NSW government, approved the variation in September 2018 allowing Council staff to progress to the next stage of studies.

On 29 May 2019, Council resolved to apply for additional funding following an exhaustive review of the project and 'value engineering' exercise. For further information, you can read the 29 May 2019 Lake Street Shared Path Merimbula Report to Council here.

An additional funding request was lodged with NSW State Government in June 2019 and an extension of time request, to complete the project by the end of the 2020/2021 financial year, was lodged in February 2020.

An announcement has recently been made by the NSW State Government, committing a further $1.74 million to the project and extending the project timeline to the end of the 2020/2021 financial year.

This new allocation takes the total State contribution to $3.74 million and means Council can now move forward into the contractor procurement phase.
You can view the Lake Street Shared Pathway Schematic Plan here.
Proposed program of works
Contacts
Project Manager: Sam Watson
P: 02 6499 2222
E: swatson@begavalley.nsw.gov.au
News and updates
Related Pages
Merimbula - Lake Street Shared Path
---
Rate This Page
---
Share This Page