Building a future beyond bushfire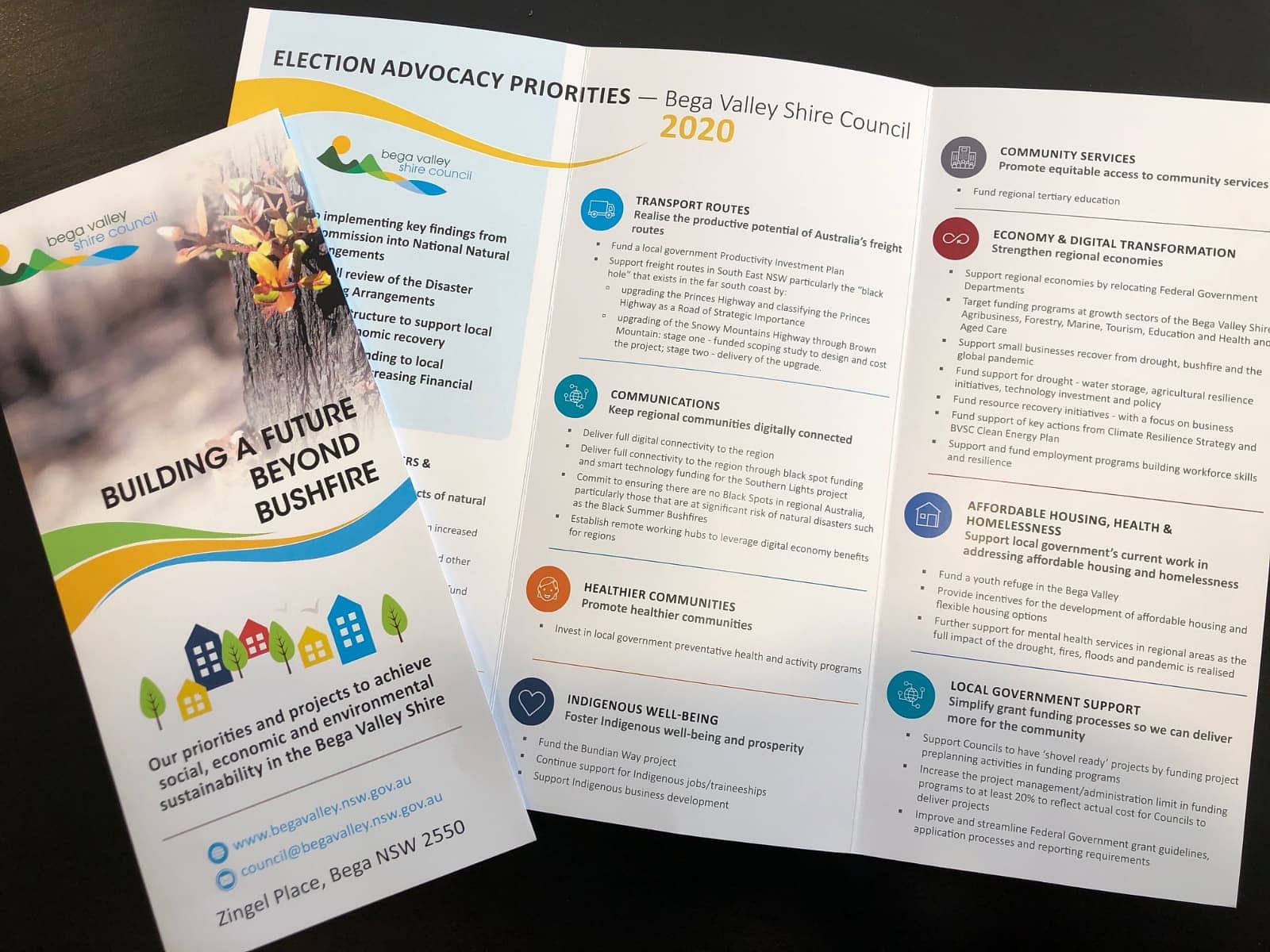 The 'Building a future beyond bushfire' brochure is currently being distributed to all candidates standing for election on 4 July.
The brochure has been informed by Council's ongoing interaction and consultation with the community, especially in the midst of bushfire recovery and COVID-19.
It is also informed by the engagement around longer term documents like the Community Strategic Plan and Delivery Program.
Overall themes of the by-election brochure are the need for:
A full review of the Disaster Recovery Funding Arrangements
A commitment to implementing key findings from the Royal Commission into National Natural Disaster Arrangements
Funding for critical infrastructure to support local community and economic recovery
Reinstatement of funding to local government through the Financial Assistance Grants
Major projects
The following key infrastructure projects are funding priorities in the Bega Valley Shire.
Airport, Water, Sewer and Energy
$4.5m - Merimbula Airport Runway upgrade
$4m - Merimbula Airport Commercial Precinct (to match state funding)
$22m - Merimbula Sewerage Treatment Plant and Ocean Outfall upgrade
$27m - Water Treatment Facility upgrades in Eden & Merimbula
$28m - Brogo Dam height raising to improve water security and farm sustainability along with local employment opportunities
Gas pipeline to support manufacturing industry retention and growth
Roads and Transport
Princes Highway duplicated from Nowra to Victorian boarder and recognised as a Road of Strategic Importance
East-West connectivity via the Snowy Mountains Highway with an upgraded Brown Mountain link supporting B-Double access
$13m - Timber bridge replacement funding
Southern Lights project roll out across regional NSW
Shovel ready land transport infrastructure stabilisation and seal projects

Wanatta Lane $511k
Tantawangalo Mountain Road $1.8m
Nethercote Road $2.25m
Kameruka Lane $2.6m
Dr George Mountain Road $5m
Warrigal Range Road $2.32m
Yowrie Road $1.8m
Towridgee Lane $1.7m
Town Centres and Precincts
$14m - Town centre revitalisation projects in Merimbula
Town centre revitalisation in other major centres in Bega Valley - Eden $3m, Bega $7m, Bermagui $8m (conceptual estimates based on relative scale of the areas to be improved)
Snug Cove Precinct Eden delivered as a vibrant maritime centre
Culture, Sport and Recreation
$6.4m - Bega Regional Gallery upgrade
$8m - Tathra Wharf rehabilitation works
$9.15m - Bega Pool renewal
$2.9m - Merimbula Boardwalk renewal
Education and Innovation
Regional education, innovation, community hub and library precinct at the former Bega Hospital Site
$3.5m - Eden library upgrade
Bushfire Recovery and Resilience
Support for regional RFS site in the Bega Valley
Full funding of Council gaps in replacement infrastructure works and make safe works
Improved telecommunication infrastructure to support emergency responses and recovery
Improved transport accessibility to support emergency responses and recovery
Full bushfire affected asset replacement funding
Funding for the upgrade of nominated evacuation centres and safer places to include alternative power sources, communications and accessibility at evacuation centres
COVID-19 Recovery and Resilience
Financial support to local government nationally to support all Councils to undertake community and economic recovery projects
Project funding to the Canberra Region Joint Organisation to develop and provide a new local government model aimed at refocussing service outputs and reducing duplicated costs
Funding to support regional airports to keep them operating with the loss of funding due to significantly reduced landing fees
Employment/Lands
$10m Materials Recovery Facility (MRF)
Naval Wharf precinct developed to support freight opportunities
Development of pre-identified industrial land project south of Bega
Tourism
Bundian Way infrastructure delivery
Trails, track and accessibility projects throughout the Shire
$7.2m - Eden Trails Mountain Bike Project
Tourism product development programs supporting industry recovery
2020 Election Advocacy Priorities — Bega Valley Shire Council
Bega Valley Shire Council
Commit to implementing key findings from the Royal Commission into National Natural Disaster Arrangements
Undertake a full review of the Disaster Recovery Funding Arrangements
Fund critical infrastructure to support local community and economic recovery
Reinstate adequate funding to local government through increasing Financial Assistance Grants
BUSHFIRES, NATURAL DISASTERS & ENVIRONMENT
Protect communities from the impacts of natural disasters and climate change
Assist local government to respond to impacts from increased frequency of bushfire, storms and floods
Ensure Census collection captures data on bushfire and other disaster impacts in regional communities
Establish a local government climate change partnership fund addressing mitigation and adaptation projects
Fund support of Councils for preparedness and response to emergencies – operation and staff training for EOC, evacuation centre facilities, telecommunications, power
FUNDING
Repair funding to Local Government
Restore the quantum of Financial Assistance Grants annually to at least 1% of Commonwealth Taxation revenue
TRANSPORT ROUTES
Realise the productive potential of Australia's freight routes
Fund a local government Productivity Investment Plan
Support freight routes in South East NSW particularly the "black hole" that exists in the far south coast by:
upgrading the Princes Highway and classifying the Princes Highway as a Road of Strategic Importance
upgrading of the Snowy Mountains Highway through Brown Mountain: stage one - funded scoping study to design and cost the project; stage two - delivery of the upgrade.
COMMUNICATIONS
Keep regional communities digitally connected
Deliver full digital connectivity to the region
Deliver full connectivity to the region through black spot funding and smart technology funding for the Southern Lights project
Commit to ensuring there are no Black Spots in regional Australia, particularly those that are at significant risk of natural disasters such as the Black Summer Bushfires
Establish remote working hubs to leverage digital economy benefits for regions
HEALTHIER COMMUNITIES
Promote healthier communities
Invest in local government preventative health and activity programs
INDIGENOUS WELL-BEING
Foster Indigenous well-being and prosperity
Fund the Bundian Way project
Continue support for Indigenous jobs/traineeships
Support Indigenous business development
COMMUNITY SERVICES
Promote equitable access to community services
Fund regional tertiary education
ECONOMY & DIGITAL TRANSFORMATION
Strengthen regional economies
Support regional economies by relocating Federal Government Departments
Target funding programs at growth sectors of the Bega Valley Shire: Agribusiness, Forestry, Marine, Tourism, Education and Health and Aged Care
Support small businesses recover from drought, bushfire and the global pandemic
Fund support for drought - water storage, agricultural resilience initiatives, technology investment and policy
Fund resource recovery initiatives - with a focus on business
Fund support of key actions from Climate Resilience Strategy and BVSC Clean Energy Plan
Support and fund employment programs building workforce skills and resilience
AFFORDABLE HOUSING, HEALTH & HOMELESSNESS
Support local government's current work in addressing affordable housing and homelessness
Fund a youth refuge in the Bega Valley
Provide incentives for the development of affordable housing and flexible housing options
Further support for mental health services in regional areas as the full impact of the drought, fires, floods and pandemic is realised
LOCAL GOVERNMENT SUPPORT
Simplify grant funding processes so we can deliver more for the community
Support Councils to have 'shovel ready' projects by funding project preplanning activities in funding programs
Increase the project management/administration limit in funding programs to at least 20% to reflect actual cost for Councils to deliver projects
Improve and streamline Federal Government grant guidelines, application processes and reporting requirements
For more information contact:
General Manager
Bega Valley Shire Council
Phone: 02 6499 2222
Email: council@begavalley.nsw.gov.au
---
Rate This Page
---
Share This Page