Merimbula water supply interruption
14 August 2018
Residents and businesses in the Merimbula CBD and Fishpen areas will be without water overnight on Tuesday, 21 August to enable the construction of a new water pipe to the new supermarket development.
The water will be switched off at 11:00pm on the Tuesday night and is expected to be turned back on by 4:00am Wednesday morning (22 August).
Council's Water and Sewer Assets Coordinator, Chris Best, said the new pipe will lead to improved flow and fire safety for the Merimbula CBD.
"The work that the local contractor and developer are doing will make Merimbula CBD safer by supplying larger volumes of water when a structure fire or bush fire threatens our community," Mr Best said.
"The timing of the work is aimed at reducing disruption as much as possible, however if you are situated in the impacted area it is vital that you have enough water stored in containers for your needs overnight."
Letters are being distributed and reminders and updates will be provided on Council's Facebook page and website www.begavalley.nsw.gov.au.
For more information, contact Peter James from Guideline South Coast on 0408 488 464.
Photograph: This map shows the areas of Merimbula that will be impacted by the supply interruption.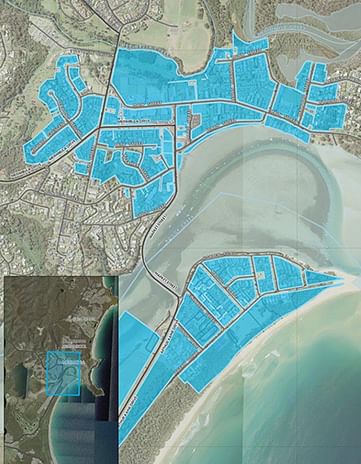 END
---
Rate This Page
---
Share This Page