Look for the green FOGO bin when you visit the Bega Valley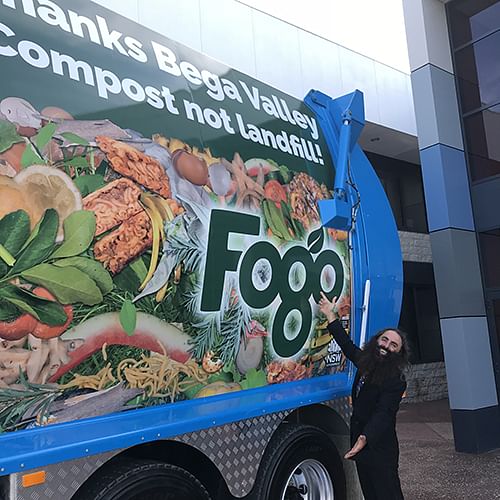 We know how lucky we are to live in the Bega Valley and love that so many people visit our region to enjoy its beautiful, pristine environment. Please help us keep it that way!
Bega Valley Shire residents use FOGO – an innovative way to manage food and garden waste by turning it into a valuable resource - compost. FOGO reduces the environmental and economic impact of sending this waste to landfill.
To help visitors choose the right bin, accommodation owners have FOGO kitchen caddies with compostable bags, information brochures, fridge magnets and bin stickers in their rooms. What goes in your kitchen caddy goes into the green bin and gets turned into compost.
The Council originally estimated that the FOGO (Food Organics Garden Organics) bin collection service would divert around 1000 tonnes of food and garden waste away from landfill each year. But in the first year, our community smashed this target and diverted almost 5000 tonnes!
We are also rapt with the response by visitors. Here's what Tammy Logan, popular Gippsland Unwrapped blogger posted after she visited Tathra in July:
"This is a first for me. The place we stayed at this weekend in the Bega Valley, NSW had a FOGO bin. That's a local government waste collection service for food organics and garden organics - otherwise known as compost! FOGO just makes so much sense, it's convenient, saves on landfill and greenhouse gases, saves money because landfill is expensive and this means they don't fill up so quick, and it rescues valuable resources for reuse."
It's important to keep FOGO free from contamination so we have put together a list of items to help you with what can and can't go in. You can also download the free Bega Valley Waste APP or follow @begavalleywasteandrecycling on Facebook.
What can go in the FOGO bin?
Meat (including bones) and seafood (prawn heads, oyster shells, fish bones)
Dairy
Eggshells
Vegetable and fruit scraps
Tissues, paper towel, paper napkins and shredded paper
Takeaway food (no plastic containers please but pizza boxes are okay)
Tea bags and coffee grinds (no coffee PODS please)
Baking paper
Vacuum cleaner dust
If you are staying in pet friendly accommodation, animal droppings and kitty litter can also go into FOGO.
What can't go into FOGO?
Soft or hard plastics – our local supermarkets have REDcycle bins for soft plastics, and hard plastics go in the yellow (recycling) bin.
Nappies and personal hygiene products – these go into the red (landfill) bin.
Bottles and glass – these are easily smashed and are hard to remove from FOGO during the organics process. These should go into recycling.
Thanks for your help in keeping the Bega Valley beautiful for your next visit!
Related Pages
Look for the green FOGO bin when you visit the Bega Valley
---
Rate This Page
---
Share This Page