Life through the lens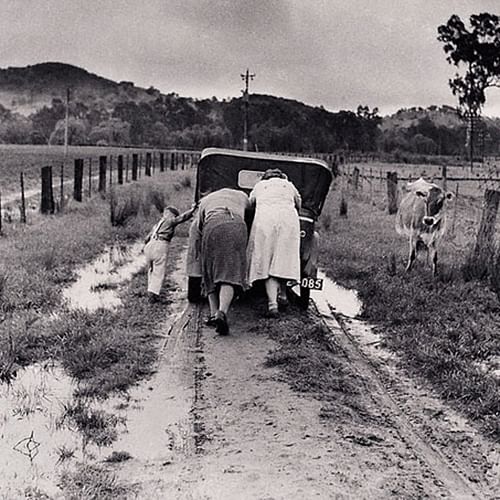 2 April 2019
Photography has played a crucial role in the development of our understanding of Australia as a place and Australians as a people.
It is not only an art form, but documents reality in an instant, using light and time to reproduce a moment. This is what makes photography one of the most important methods of documentation of people, events, and feelings, both historically and in the present day.
The Bega Valley Regional Gallery's next exhibition Contemporising the Modern showcases 50 photographic works that speak of Australia in the 20th and early 21st centuries.
These works were collected by Russell Mills and donated to the Murray Art Museum Albury, MAMA in 2015.
The Russell Mills Foundation was formed in 2015, on the death of Russell Mills, a nurse and public servant who nurtured interests in reading, art, music and theatre that grew into passions for festivals, books, art, photography, 20th-century architecture, musical theatre and arts philanthropy.
The Foundation is a legacy of Russell's ideals. It supports opportunities for Australians to be challenged and enriched by experiences and ideas, and to find inspiration for promoting a fairer, smarter and more engaged community.
BVRG Director, Iain Dawson, said the diverse collection explores the development of Australian photography and its coming of age in a period when photographers were investigating and pushing the boundaries of the acceptance of photography as a pure art form.
"Contemporising the Modern brings together iconic artists including Max Dupain, Olive Cotton, Jeff Carter, Bill Henson, Narelle Autio and Trent Parke and we are delighted to again bring such esteemed works to Bega," Mr Dawson said.
"Highlighting the ever-increasing recognition the Bega Valley Regional Gallery is receiving, and the significance of Contemporising the Modern, the exhibition has been included in this year's Head On Photo Festival.
"Collections reflect the lives and loves of those who build them and this case it records the evolution of Russell's engagement with the beauty and power of photography."
Contemporising the Modern - Australian Photography from the 20th and 21st Century will open this Friday (5 April) at noon and run through until 22 June.
The Bega Valley Regional Gallery is open from 10am - 4pm Monday to Saturday. For more information head to http://gallery.begavalley.nsw.gov.au
Photograph: Jeff Carter, Tobacco Road 1956, silver gelatin print (courtesy MAMA Collection).
END
---
Rate This Page
---
Share This Page