Locals clean up at NSW Coastal Conference Awards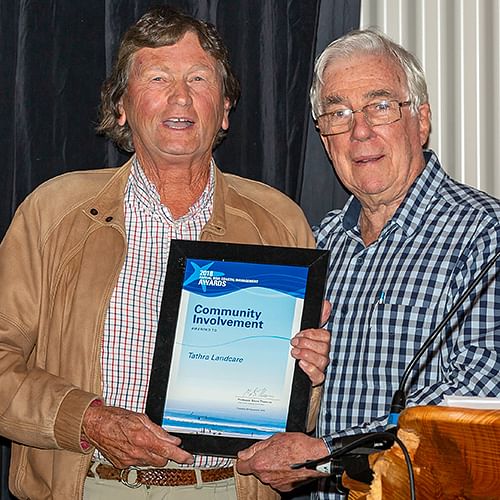 19 November 2018
Bega Valley Shire residents and industry groups received recognition for excellence in coastal management and protections at the recent New South Wales Coastal Conference.
Tathra Landcare and the South Durras Landcare group were announced as joint winners of the 'Community Involvement' award; recognising Tathra Landcare's 25-year commitment to protecting and improving the Tathra environment, its successful fight against Bitou Bush and its recent contribution to the Tathra bushfire recovery.
Cuttagee's Stuart Cameron was awarded the 'Local Hero' award for his dedication to the local coastal environment and in particular his work on the highly acclaimed Coastal Weeds Project.
Mr Cameron has been the driving force behind the success of this program over the last ten years, that sees two annual sweeps undertaken of all the Shire's beaches, cliff tops and coastal reserves to remove invasive weeds and litter.
The Shire's oyster farmers were recognised for their ongoing commitment to the health of our local estuaries, innovative practices and participation in cutting edge research, winning the 'Public Good' award.
Council's Environmental Services Coordinator, Derek van Bracht, said that the awards were a very well-deserved recognition for the many years of commitment that all the winners have made to our Shire's coastline.
Mayor Kristy McBain said there is no doubt that the amazing condition of the Bega Valley Shire's coastal environments are a direct result of the actions of people and groups like Tathra Landcare, Stuart and his project teams from the Local Lands Councils, and our local oyster farmers.
"The combined passion they have for our coast is second to none," Cr McBain said.
The Costal Conference awards were a fabulous part of the three-day conference that attracted 250 delegates from across Australia, to Merimbula.
Photographs: Jim Kelly and Professor Bruce Thom, NSW Coastal Council; Brett Weingarth (Magical Oyster Tours), Greg Carton & Sue Mcintyre (Broadwater Oysters) and Professor Bruce Thom, NSW Coastal Council; Stuart Cameron with Mayor, Kristy McBain
END
---
Rate This Page
---
Share This Page