Bemboka Hall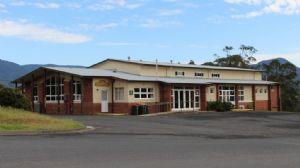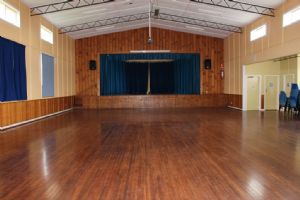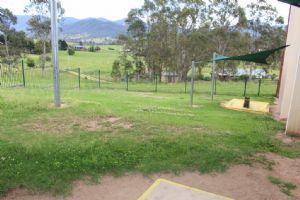 Bemboka Memorial Hall is located on the corner of the Loftus Street (Snowy Mountains Highway) and Adams Street, in the rural township of Bemboka approximately 30km northwest of Bega. The hall provides a perfect venue for the event organiser and can cater for a wide range of events.
Current Restrictions - COVID-19
Due to COVID-19 restrictions by the NSW Health Department, all hall hire agreements include a COVID-19 Safety Plan for community halls which may also limit the number of participants for a booking. The COVID-19 Safety Plan will need to be strictly adhered to at all times to ensure the safety of our community. Please contact the hall booking officer listed below for more information.
| Bemboka Hall rooms | Maximum limit of people allowed in this space |
| --- | --- |
| Main Hall | 49 |
| Supper room | 24 |
| Kitchen | 3 |
| Basement | 8 |

Facilities available at this venue include:
Separate ladies and gents toilets available inside the premises
Disability access through front ramp entry
Total licensed capacity – 200 persons (not valid during COVID 19 restrictions)
Seating capacity - 200 (not valid during COVID 19 restrictions)
200 single chairs
On site parking
Ceiling strip heaters
Resources – Kitchen facilities comprising of 3 electric stoves, 2 refrigerators, crockery and cutlery, urn and hot water available.
Insurance
Guidelines
Committee Contact and Bookings
The Bemboka Hall Committee is a community committee whose roles and responsibilities as delegated by Council include the general care and maintenance of the facility and the management of facility bookings.
By mail:
Bemboka Memorial Hall Committee
C/- Bemboka Post Office
Bemboka, NSW, 2550

By phone:
Bookings can be made by phone by calling the Bemboka Post Office during business hours on (02) 6493 0240

| Hall Hire | Rate |
| --- | --- |
| Hall hire per hour | $15 |
| Hall hire for half day | $56 |
| Hall hire for full day | $117 |
| Hall hire (3 hours with audio visual) per booking | $63.50 |
| All facilities for full day | $160 |
| Bonds | |
| Low Risk Bond | $200 |
| High Risk Bond | $500 |
| Regular Hire key deposit | $50 |
| Kitchen and Supper Room Hire | |
| Kitchen Hire (with supper room) per day | $74.50 |
| Kitchen Hire (with hall) per day | $42 |
| Supper Room only per day | $19.50 |
| Not for Profit and Community Groups | |
| School hire (10 sessions) | $70.00 |
| Pre-school per day | $82 |
| School concert (including rehearsals) | $144 |
| Garden club (including show) | $47.50 |
| Equipment Hire | |
| Microphone deposit | $22 |
| Metal chair hire (each) | $1 |
| Hire of tables (each) | $5 |
| Other | |
| Funerals and Wakes (per booking) | $130 |
| Elections (includes cleaning) | $359 |

Bemboka Memorial Hall Activities
Thai Chi
Wednesdays: 10am – 11am (During school terms only) and
Wednesdays: 6pm - 7pm - NSW Health, Gold Coin Donation

B.R.A.S
Fridays: 7pm (every second Friday of each month)
Related Pages
---
Rate This Page
---
Share This Page