Water Supply Interruptions
On this page:
---
Bega Valley Shire Council would like to notify you of all planned and unplanned interruptions to the water supply. This page will be updated as required between 9.00am and 4.00pm weekdays. For further information regarding interruptions to water supply, please contact us on (02) 6499 2222.
Unplanned Interruptions to Water Supply
Planned Interruptions to Water Supply
Date and Time
Location
Comment
Wednesday 23 June 2021, 9am - 1pm
Pambula, part of Toallo and Munje Streets.

On Wednesday 23 June our Merimbula water team will need to switch off water supply to part of Toallo Street, Pambula (between Narregol and Munje Streets - including a small part of Munje Street) between 9am and 1pm to conduct maintenance on the water main.

Notices have been handed out to affected residents and businesses.

Be sure to prepare enough drinking water to see you through.
Water Fill Station Locations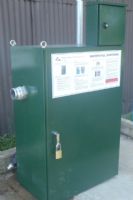 We have seven Water Fill Stations at the following locations:
South Pambula - Redfern Close (D)
Bermagui: Fill Station is at the intersection of Cobargo-Bermagui Road and Tilba Road, approximately 5km north of Bermagui. (D)
Bega: Fill Station is adjacent to the Caltex Service Station near Bega Cheese on Lagoon Street, North Bega. (D,F)
Tathra: Fill Station is adjacent to the Rural Fire Service shed on Bega Street Tathra (D,F)
Bemboka: Fill Station is opposite the Bushfire Shed on the intersection of Betts Street and Kameruka Street, Bemboka. (D)
Candelo: Fill Station is behind the Town Hall on Eden Street, Candelo. (D)
Merimbula: Fill Station is on the Princes Highway, 2km north of Merimbula and 1km east of the Merimbula Bypass. (D)
Eden: Fill Station is off the Princes Highway on the eastern end of Barclay Street, adjacent the Eden Cemetery. (D)
Legend: D = water has undergone disinfection; F = fluoride has been added
Visit our Water Fill Stations page for more information on: Water access and fees; Operating instructions; Water fill station etiquette: Billing and key bond, and; Purchasing a suitable hose.
Related Pages
Water Supply Interruptions
---
Rate This Page
---
Share This Page