Pilot program to create cool and resilient refuges for three Shire villages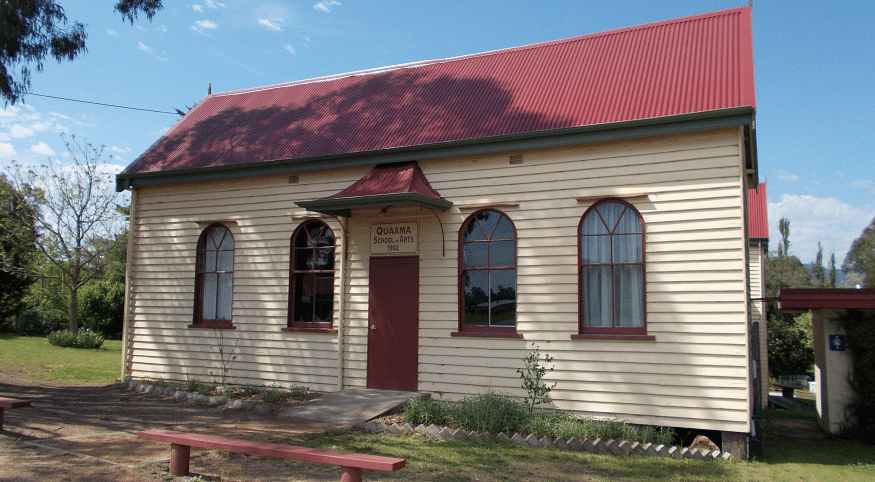 Photo: Quaama Hall will feature as part of Council's Cooler Places in a Warmer Climate pilot program.
13 November 2020
Bega Valley Shire Council is seeking community input to a pilot program aimed at reducing the incidence and severity of heat-related illnesses in three vulnerable Shire villages – Bemboka, Quaama and Wyndham.
'Cooler Places in a Warmer Climate' is part of the adaptation actions identified in Council's Climate Resilience Strategy and is being funded through the NSW Government's Increasing Resilience to Climate Change program.
Council's Environmental Management Officer, Michael Fiedler says, given the predicted increase in extreme weather events, understanding where vulnerable community members will go during extreme heat days and putting in place preventative public health measures will help communities cope with a warming climate.
"Extreme heat events, including heatwaves, are estimated to cause more deaths in Australia than all other natural hazards combined and are predicted to increase with the changing climate," Mr Fiedler said.
"Communities in Bemboka, Quaama and Wyndham have been identified as vulnerable to extreme heat events because of the age of residents, distance to health providers, and design of community infrastructure."
One of the measures being considered is the creation of cool refuges in local community halls, including increasing the resilience of these facilities during power outages through the installation of solar systems and battery storage to power air-conditioning.
"We want to create positive change by raising community awareness of the dangers of extreme heat and engaging local communities to help design cool refuges in their halls," Mr Fiedler said.
"Our aim is for these communities to develop an understanding of the role of their local hall during extreme weather and other emergency events.
"Aside from social and health benefits, the project aims to generate positive environmental and economic outcomes.
The solar and battery installations will help reduce power bills and hall carbon emissions.
"The halls project will employ local tradesmen and specialists in renewable energy installations and will have economic flow-on benefits to the local community."
Kategic Solutions is working with Council through the community consultation phase of the project, which includes an online survey through Council's Have Your Say webpage, targeted community consultations and COVIDSafe information sessions in each village.
Registrations are not required for the information sessions, which will run from 10am to 12noon on the following days:
Bemboka Hall - Thursday 3 December 2020
Wyndham Hall - Thursday 10 December 2020
Quaama Hall - Friday 11 December 2020
---
Rate This Page
---
Share This Page