Notice of proposed road naming in Bega
Bega Valley Shire Council announces that the following names are proposed for two new roads within the Council boundaries.
Wumbalwarra Drive and Barrumbarra Place
Locality: Bega
Background: These names were proposed by the developer of the new subdivision and a report was presented to Council on 7 August 2019. Both of these proposed road names comply with the Geographical Names Board of New South Wales guidelines and Council's Road Naming Procedure 4.04.1.
Reason for Proposal: The two new roads proposed under this application will serve as the main point of access to the subdivided land parcels located off the newly named Spanish Oaks Drive in Bega.
Location: As defined on the map below. The two roads are located within the Spanish Oaks subdivision located off Kerrisons Lane, Bega.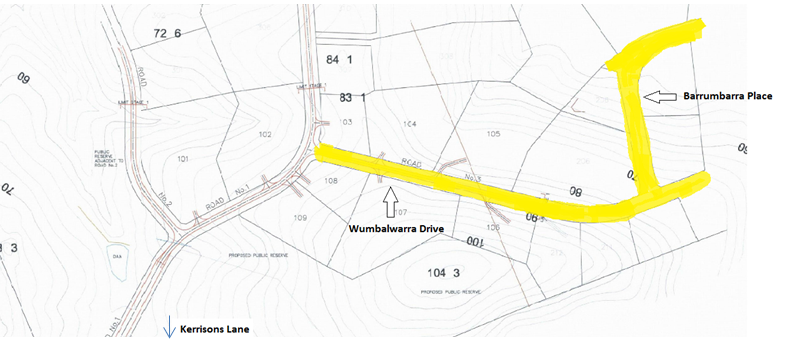 Wumbalwarra
Aboriginal word from the local Dhurga language
Means River Oak
Barrumbarra
Aboriginal word from the local Dhurga language
Means Peppermint
Sumbmissions
Any person may lodge submission regarding the proposal with Council within a period of fourteen (14) days.
Submissions are to be addressed to:
General Manager
Bega Valley Shire Council
PO Box 492
Bega NSW 2550
or emailed to council@begavalley.nsw.gov.au
Submissions are to be received by Wednesday, 28 August 2019.
Further information regarding this proposal can be obtained by contacting Council's Property Services Team on 6499 2219.
Related Pages
Notice of proposed road naming in Bega
---
Rate This Page
---
Share This Page