Gallery show sizzles for summer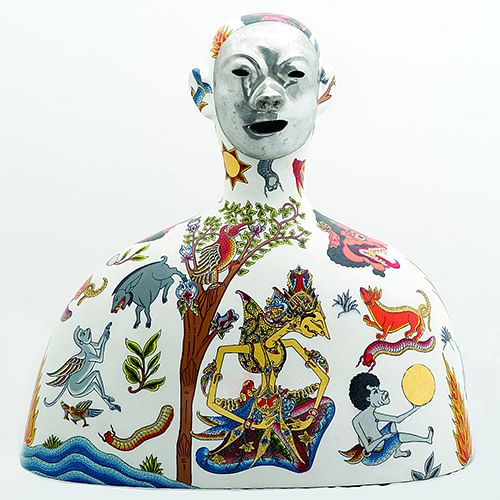 11 December 2018
Local art lovers are set for a real treat when the second edition of South/East Interference opens at the Bega Valley Regional Gallery this Friday.
The exhibition that runs through the summer holiday period until 9 February, brings together a diverse group of six mid-career artists working around themes of personal identity and redefining and re-imagining cultural heritage and storytelling.
Sydney and Jogjakarta based Jumaadi presents his contemporary shadow puppets, which are tools to convey the quotidian, the traditional and the contemporary; while Sydney based Indonesian artist Val Wens uses performance and documentary photography to critique contemporary Indonesian identity.
Darwin based Chayni Henry brings her diary style chronicled experience to life with new works and Gunybi Ganambarr presents traditional Yolngu stories and art making techniques to the most contemporary of materials, which hold up current land use politics and controversy around mining in Northern Australia.
Dadang Christanto is an internationally acclaimed Indonesian artist whose painting and installation practice honours the victims of crimes against humanity.
Ramesh Mario Nithyendran's monumental 'Mud Men' completes the exhibition. Built on an attitude of agitation, and ostentatious in style, Nithiyendran's sculptures appear to strut and shout look at me! I'm raw and garish. I'm atheist, Hindu, Christian, feminist, queer and gender fluid. I'm exotic and every day.
Reactions to his installations run the gamut of emotive spectatorship, from fits of giggles, wonderment and critical celebration to rankle and disgust.
The Guardian Australia's art critic, Dr Andrew Frost, said South/East Interference Volume II is a collection of work that has been brought together from a range of artists for whom the story of their subjective response to the world lies at the heart of their art making.
"The work resonates with shared themes of personal identity, and a redefining and re-imagining of cultural heritage, while bearing, quite literally, the traces of the artist's hand, and through an act of viewing on the part of the audience, a transition from intention into a realisation of meaning," Dr Frost said.
The official opening of South/East Interference Volume II will be held at the Bega Valley Regional Gallery from 6pm on Friday, 14 December.
BVRG will be open regular hours, Monday – Saturday from 10am – 4pm all summer (closed on public holidays).
Entry is FREE!
Photograph: Dadang Christanto, Lost and Found #3, 2013, aluminium and acrylic courtesy QUT art collection.
END
---
Rate This Page
---
Share This Page