Update on Bar Beach restrictions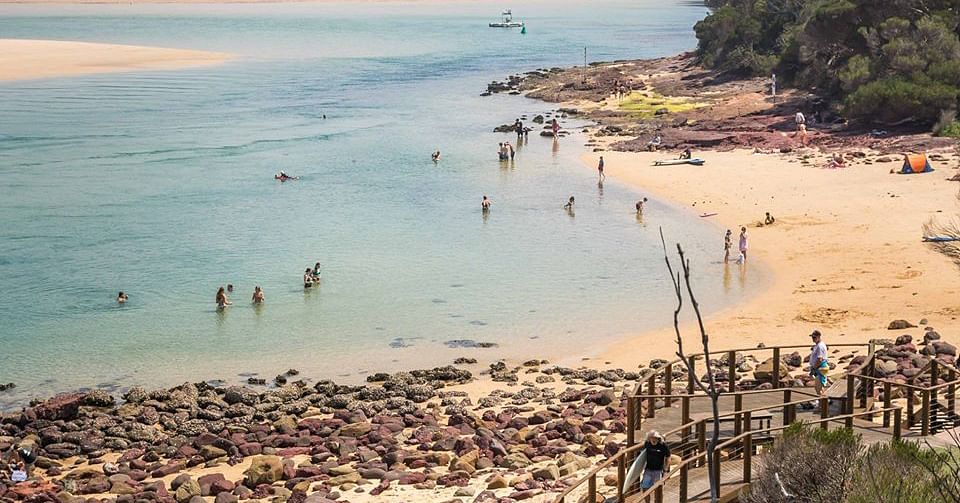 Photo from Sapphire Coast NSW Facebook: Bar Beach, Merimbula, January 2020.
Thursday, 23 April 2020
Mindful of the health advice connected to COVID-19, the Bega Valley Local Emergency Management Committee continues to review and manage popular locations in the Bega Valley.
"In most spots people are doing the right thing and sticking to the rules around physical distancing and the size of gatherings," NSW Police Chief Inspector Peter Volf says.
In the interests of community health and well being the committee has decided to keep the Bar Beach car park at Merimbula closed beyond the current school holidays.
"We'll review the closure regularly and will certainly lift the restriction when the time is right," Chief Inspector Volf says.
"The restricted space of Bar Beach and the attitude of a few people has made it a particular challenge. Thank you to those who have heard the message and respected our decision."
Mitchies Jetty at Merimbula has also been raised as another area of concern and a location where our success against COVID-19 so far could be placed at risk. Regular police patrols will continue to monitor the people gathered.
While the number of confirmed cases of Coronavirus/COVID-19 in the Bega Valley has remained stable for over two weeks now, the community still needs to remain vigilant against the illness.
"Access to all our other beaches remains open so that people can stay physically and mentally healthy during this challenging time, but we still need to remember the health advice," Chief Inspector Volf says.
"People are allowed out of their homes to exercise for short periods. We ask that people maintain the rules around staying 1.5 metres apart and not gathering in groups larger than two, unless it's your immediate family."
The Bega Valley Local Emergency Management Committee has been meeting weekly and is made up of a range of response agencies including Bega Valley Shire Council, NSW Health, NSW Police, NSW Disaster Welfare and others.
Police patrols of popular locations are ongoing, officers will be talking to members of the public to share advice and answer questions. If you have specific concerns please call your local police station on 6492 9999.
END
---
Rate This Page
---
Share This Page