New facilities for Bega Park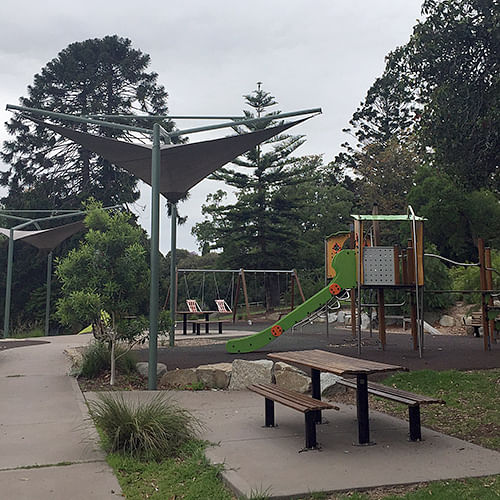 22 August 2019
Bega Park will soon be home to a sheltered barbecue area and amenities, with work already underway.
These projects, which have been made possible through a $126,296 NSW Government Stronger Country Communities Fund grant, will complement the substantial upgrade to the playground that was completed in 2016.
The design of the new elements has focused on ensuring accessibility for users of all abilities and fitting in with the surrounding landscape.
Construction and installation of the barbecue and shelter is in progress, with the concrete slab cast, and is expected to be completed by mid-September.
The design for the new amenities building is well advanced and will include single unisex accessible and unisex ambulant toilets with nappy change facilities and linking pathways. Construction of the amenities building is expected to be finalised by early in 2020.
Council's Coordinator of Recreation and Natural Assets, John Turville, said that the completion of these projects will greatly increase the usability and functionality of the space.
"Use of the playground has increased significantly since the upgrade, however these vital additions will mean that picnics, children's birthday parties and other get togethers can be enjoyed and users will be able to stay longer.
"We are really looking forward to Bega locals and visitors enjoying a high-quality playground and park where they can relax, interact and explore," Mr Turville said.
Photograph: A sheltered barbecue area and amenities block are on the way for Bega Park.
END
---
Rate This Page
---
Share This Page