Stories from the Bega Valley Bushfires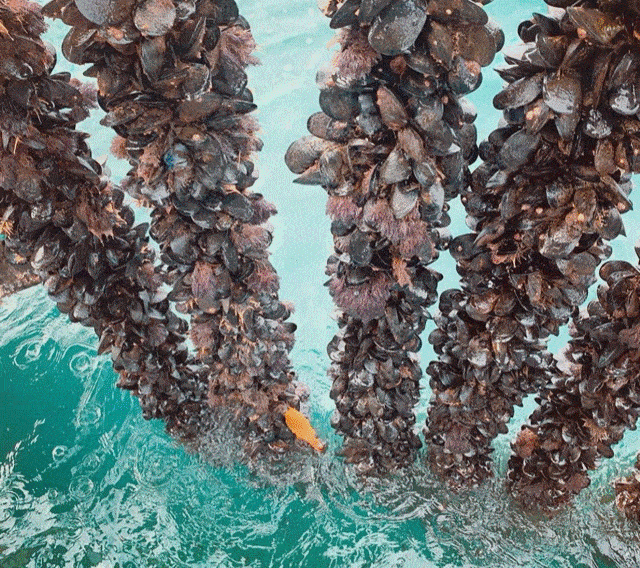 4 March 2020
The bushfire recovery needs of our region are broad and deep. Recognising the impact those flames have had on lives, the environment and the economy, Bega Valley Shire Council is keen to highlight the stories of those living with the aftermath.
Stories have power and we hope these case studies will help deliver assistance and change.
Eden Mussels – Fires then floods: the last gasp
Eden Sea Farms was established over two decades ago, farming the nutrient rich waters of Twofold Bay, a marine environment that fosters the fast growth of mussels of exceptional quality.
Trading as Eden Mussels, the company applies best environmentally sustainable farming practices and has a great reputation within the seafood market; acknowledged as a finalist in the Sydney Fish Market Seafood Awards.
The only operational mussel farm in NSW, Eden Sea Farm's journey, like many in small business, has been a long and tumultuous one.
"Twofold Bay is a great place for mussels, but is exposed to significant weather events that makes farming them a real challenge," said one of four company Directors, Chris Boyton.
"Initially we farmed using rafts that were based on European mussel growing systems designed for sheltered waters, but they couldn't withstand the storms and rough weather of Twofold Bay."
Unlike dryland farming, it was not possible for Eden Sea Farms to source replacement stock from other areas when mussels were damaged by heavy seas due to strict quarantine conditions limiting movements interstate. Any losses couldn't be made up; they had to wait for the next year's recruitment to provide stock.
Trial and error
"There has been many frustrating years of trial and error with irregular but significant storm damage resulting in stock and equipment losses, a toxic algal bloom and a suspension of harvesting while the harbour was dredged for cruise ships," Chris said.
"All this has meant it was not until the later part of last year that we were confidant we could farm successfully, applying the hard-earned lessons of past years."
For so many years, the company has been supported by the Directors, as the ongoing losses have meant that any income has been put back in to support the business and pay staff.
"This current year was looming as the first year where a real return on investment was likely," Chris said. "We were anticipating being able to provide full employment for our five existing casual staff, employ even more and purchase additional equipment – we were on the road to expansion.
"For the first time in a long while, we were excited about the company's, and our, future."
And then the fires hit. Followed by flood.
The direct impact of the border fire, use of seawater to quell the chip mill stock pile fire and the subsequent damage from storm water runoff coming from the burnt ground all impacted on Twofold Bay and was devastating for Eden Sea Farms.
Ongoing losses
"We've lost at least eight weeks of sales, having had to stop harvesting and we haven't been able to employ our staff. And there is no way of knowing what damage has been done to the mussel crop we have at present in the Bay," Chris laments.
He said the company is also thousands of dollars out of pocket for the ongoing water testing that is required. Each week they anxiously wait to see if the tests come back clear, which would give them the green light to begin harvesting again. They get a small subsidy to help pay for the tests, but it's not enough to go close to covering the number of tests they have had to do so far this season.
Chris's concern now is the cash flow needed to make this harvest and the next. The company needs to re-engage staff now and buy additional material and equipment for the next harvest season.
"I know we have a viable, environmentally-friendly business that can provide employment for people in Eden. We just need some support to get through this period," he said.
Eden Sea Farms is finding it challenging to navigate government support on offer. They need a grant or loan to help see the company through the next few months. Chris is making contact with the Recovery Centre, attended information sessions being held by agencies but says he hasn't got any material answers yet.
"It's hard to know if we qualify. We are obviously badly impacted by the fires but as we were farming in water, the criteria 'direct flame damage' does not apply as such," he said.
But the actions taken to quell the chip pile fire and the resultant flow of ash and other pollutants following heavy rain into Twofold Bay was directly caused by the fires and has impacted the company as if it were flame affected.
"I just want to know if we are eligible for assistance because it's a strain, involving lots of paper work so far but going nowhere," he said.
Without this assistance the Directors of Eden Sea farms are unsure of the future of Eden Mussels.
"Resources are stretched," Chris said. "The Directors have been impacted by the fires in other ways too. This is kind of the last gasp. We've had a lot of setbacks and we can't afford to keep putting money in.
"There are lots of people worse off than us. But we all know how little employment there is in Eden and I know this business can be a success; can be a great local employer. It's good for us and good for Eden.
"If we can just get through the next few months."
Bega Valley Shire Council remains committed to supporting local business and our regional economy as a key component of our bushfire recovery.
Mayor, Kristy McBain continues her steady work in this area of concern. She recently travelled to Parliament House in Canberra and Sydney to discuss what support needs to be provided to Bega Valley businesses, both directly and indirectly affected by the bushfire disaster.
We know that if we don't get businesses back on track right now, the whole community will be negatively impacted; a 'second disaster' the Mayor calls it. Keeping people employed and building sustainable lives in our regional community is vital.
State and federal governments need to understand how desperate the situation is in our small Far South Coast towns.
Advocating on behalf of the Bega Valley business, the Mayor requests that:
small businesses indirectly affected by the fires, particularly those with a turnover of less than $1 million, receive the $50,000 grant that is currently only available to burnt businesses
the ATO put $1,000 in the bank account of all those in the postcodes of each local government affected by the bushfires, allowing residents to this money in local shops and for local services
tax-deductible holidays are encouraged, in that if you spend seven days in a bushfire affected area, you can receive a cash deduction using related receipts.
What Council is doing now and has in place:
an economic development team working with peak business groups, other agencies and all levels of government
investment of $250,000 towards long-term business recovery, tourism marketing and events
small business digital readiness training workshops
a range of workshops and support services to small business through the Bega Valley Innovation Hub
a portal for local contractors to register their interest in becoming involved in civil recovery works.
More information is available on the Bega Valley Shire Council website.
---
Rate This Page
---
Share This Page