Extra waste vouchers for Bega Valley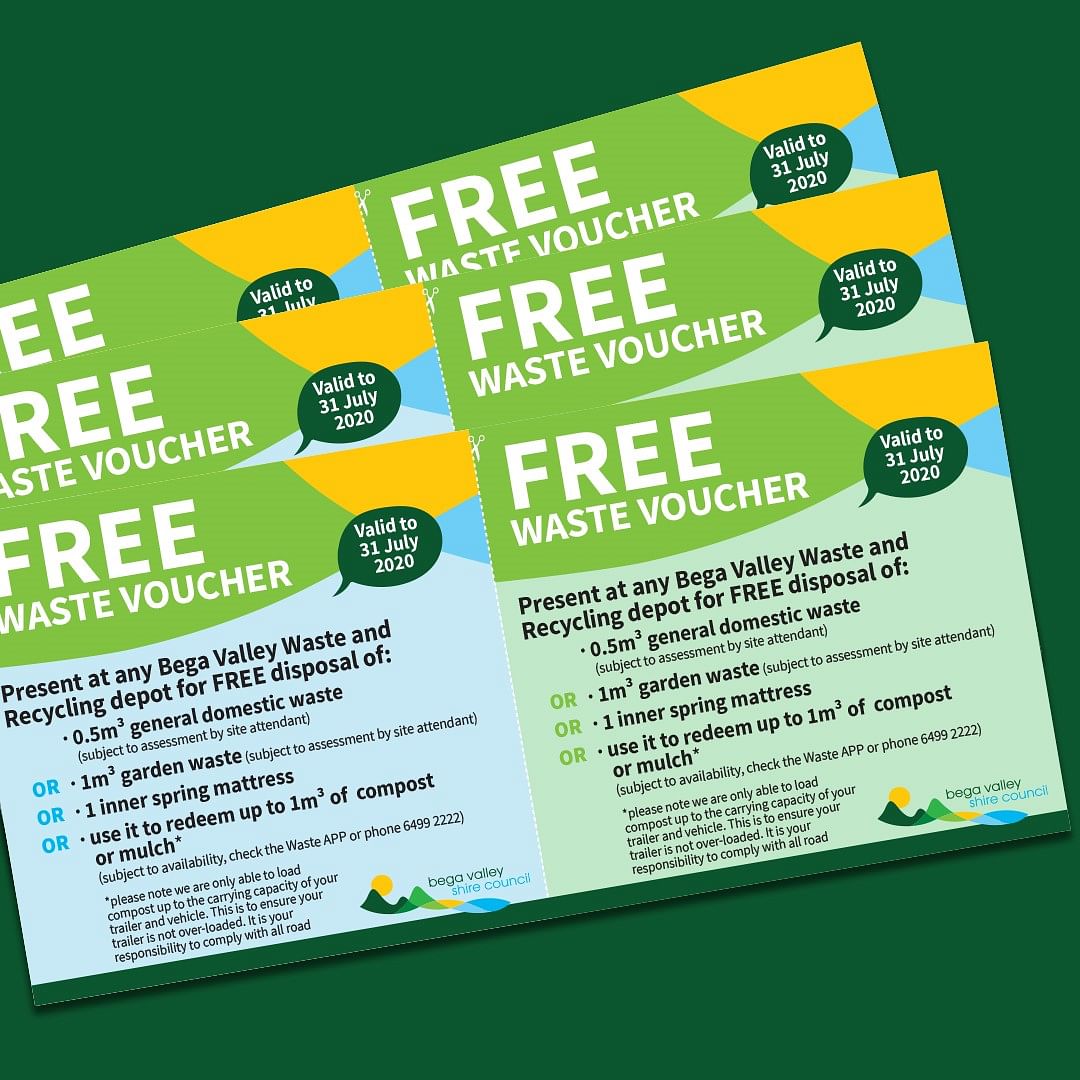 13 December 2019
Bega Valley Shire Council is sending two free waste vouchers to residents this week to help people manage their extra household waste over the summer bushfire season, and just ahead of the holidays.
The vouchers will arrive in people's mailboxes in the form of a postcard. Each postcard has two vouchers which can be used between now and 31 July 2020.
The Council sends out four free waste vouchers each year, two with mid-year rates notices and a second two prior to Christmas.
Waste Management Coordinator, Joley Vidau, says the pre-Christmas vouchers will help residents keep their gardens clear of unwanted vegetation and recognise everyone's efforts during the year to choose the right bin.
"This year Bega Valley residents have embraced the opportunity to reduce the amount of waste that goes into their red bins by diverting food and garden waste into FOGO bins, recycling into yellow bins and soft plastics to the REDcycle bins at local supermarkets.
"When every household separates their waste at home, it adds up to a lot that doesn't go into landfill - this saves money and is better for the environment," Ms Vidau said.
All Bega Valley tips will open as normal during the holiday period apart from being closed on Christmas Day. It will be business as usual for kerbside collections, regardless of whether your collection day falls on a public holiday.
Residents can download the free Bega Valley Waste APP for tip opening times, an A-Z list of items that go into each bin, bin collection reminders and other information.
People can also follow @begavalleywasteandrecycling on Facebook for tips and information.
Background
Extra visitors over the holiday season means extra entertaining and extra food waste. To help families manage their food and garden waste Bega Valley Shire Council provides a weekly FOGO (green) bin collection service. Here are a few reminders on what can and can't go into the FOGO bin.
What can go in the FOGO bin?
Meat (including bones) and seafood (prawn heads, oyster shells, fish bones)
Dairy
Eggshells
Vegetable and fruit scraps
Tissues, paper towel, paper napkins and shredded paper
Takeaway food (no plastic containers please but pizza boxes are okay)
Tea bags and coffee grinds (no coffee PODS please)
Baking paper
Vacuum cleaner dust
Animal droppings and kitty litter.
What can't go into FOGO?
Soft or hard plastics – our local supermarkets have REDcycle bins for soft plastics, and hard plastics go in the yellow (recycling) bin.
Nappies and personal hygiene products – these go into the red (landfill) bin.
Bottles and glass – these are easily smashed and are hard to remove from FOGO during the organics process. These should go into recycling or to your local Return and Earn station.
Photograph: Extra waste vouchers will be in mailboxes soon.
END
Related Pages
Extra waste vouchers for Bega Valley
---
Rate This Page
---
Share This Page