Little Bang Science for Preschoolers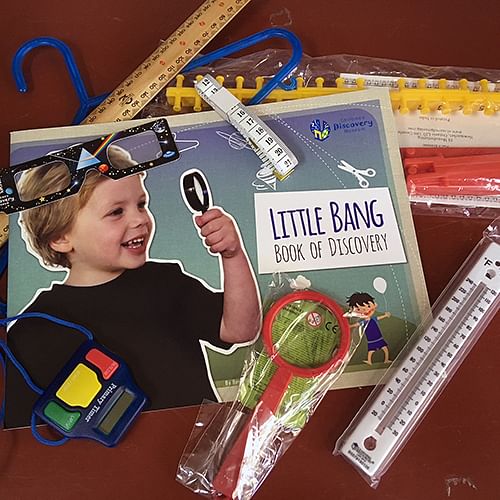 27 February 2018
Bega Valley Shire Library is at the forefront of an exciting Science, Technology, Engineering and Mathematics (STEM) initiative to bring a hands-on science discovery program to local preschool children.
The aim of the Little Bang Discovery Club is to develop ideas and skills in children that inspire further scientific exploration, discovery and learning.
Participants attend a weekly session for four weeks with each session incorporating hands-on activities using everyday objects and experiences, a question and answer time and a Discovery Box, which is loaned to each child for the duration of the Club on payment of a $20 refundable deposit.
Bega Valley Shire Library, with funding support from the Mumbulla Foundation and in partnership with the Sapphire Coast Regional Science Hub, has purchased multiple Discovery Boxes, which contain specially assembled, age-appropriate tools and equipment.
Acting Library Coordinator, Megan Jordan-Jones, said the program incorporates practical sessions on collecting and classifying, measuring and recording as well as using experiments.
"Little Bang is fun and engaging not only for children but also for accompanying adults, and it will give parents and carers ideas about safe experiments to try at home," Ms Jordan-Jones said.
Ms Jordan-Jones added that the Little Bang Discovery Club will be rolled out to all Shire libraries throughout the year.
The first Little Bang Discovery Club will run at Bermagui library each Wednesday in March starting at 10.30am.
Places are limited and bookings are essential. Book and pay your deposit by phoning Bermagui library on 6499 2411 or visit www.begavalleyshirelibrary.eventbrite.com.au.
The Children's Discovery Museum developed this highly successful program in collaboration with Randwick City Library in 2011 and it is now operating in over 25 libraries throughout New South Wales.
Photograph: Each child will be loaned a Discovery Box for the duration of the club.
END
---
Rate This Page
---
Share This Page