Council celebrating innovation award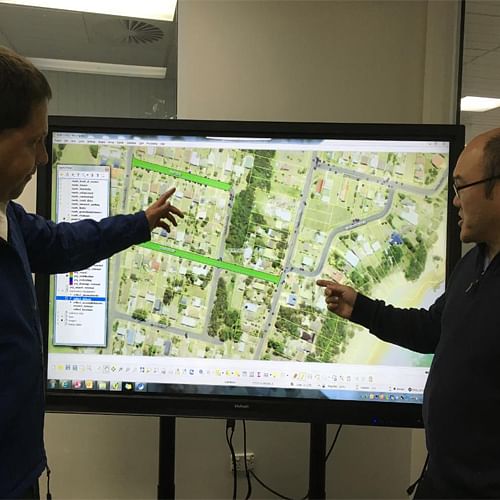 13 November 2017
Bega Valley Shire Council is celebrating after receiving an award for innovation at the IPWEA NSW Engineering Excellence Awards on Thursday night.
The recognition comes after Council has beefed up the technology it uses for internal communication, project and asset management.
A comprehensive system known as a Network Operating Centre (NOC) has been developed internally, enabling data mining between Council's separate information management systems.
The concept originated from a need to manage intellectual property, with staff keen to reduce duplication and highlight opportunities that bring about greater collaboration and efficiency.
Council's Manager of Strategy and Assets, Jason Deller, said that the NOC allows staff (through the use of a touchscreen) to view all relevant information for a localised area, which in turn saves on transportation costs and maximises the efficiency of works personnel.
"There was a real focus on the transport network in developing the NOC and we now have the ability to view large quantities of data spatially across the Shire," Mr Deller said.
"Through utilising the NOC, Council is able to fully understand the complexities of transport servicing. Renewal and upgrade information is readily available and reflects the current 'real time' status of our network for tactical and operational workflow and future strategic planning.
"While still evolving, the system is already bringing great benefits including better project planning; displaying crash data statistics that guide funding applications and road improvement programs; displaying Council road grading schedules to determine level of service requirements and compliance; and minimising the loss of corporate knowledge.
"This is cutting edge technology and the use of drones for video and photographic evidence has been vital to the project, which enables Council to optimise value for money and deliver responsible, ethical spending and efficient service delivery," Mr Deller said.
In exciting news for the community, much of the information held within the NOC will be soon available through a new 'transport portal' on Council's website.
For more information contact Council's Manager of Strategy and Assets, Jason Deller, on (02) 6499 2222.
Photograph: Council's Asset Systems Analyst, Steve Katona and Asset Management Coordinator, Gary Louie, using the interactive NOC (upright format).
END
Scroll down to Like | Share | Comment on this page
---
Rate This Page
---
Share This Page
---