Booris of Eden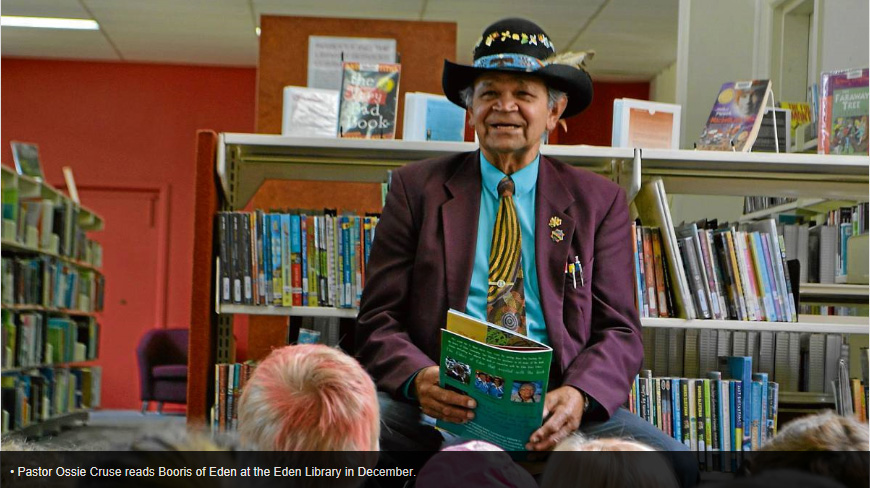 From little things, big things grow
Efforts to preserve the local Koori language have entered the mainstream through a children's book about friendship and respect for the landscape.
The book, Booris of Eden, was written and narrated by Koori elder pastor Ossie Cruse and illustrated by Koori artists and the children of Eden Pre-school.
Supply has already been exhausted after a small grant allowed for a print run of just 300, with all books given to pre-school families and libraries.
The project was pulled together by Eden Pre-school's educational leader and nominated supervisor Dianne McCaffrey.
"I was wondering how to get the children to learn about a book being something that tells a story," Dianne said.
"So then I thought, well, because it's for the indigenous children coming to the centre I'd ask the elders if there was something they wanted to teach."
Soon, elders Pastor Ossie Cruse and his wife the late Aunty Beryl Cruse, Uncle Ossie Stewart, Aunty Liddy Stewart and Aunty Shirley Aldridge, along with Koori parents and friends of the pre-school got together to brainstorm ideas for the book.
They agreed to work on the book to foster understanding of their culture and language and to encourage new generations to have ownership of their own education.
They chose to include Koori words for people and children, the creator, the ocean and some of the creatures within it.
It contains art by Robyn Stewart and Joe Stewart and the children and photographs of them at play.
So far more than 200 Koori words and their pronunciations have been transcribed in a collection at The Keeping Place, Monaroo Bobberer Gudu, at Jigamy Farm.
But it wasn't so long ago that the language, and the culture, wasn't so generally appreciated by non-indigenous people.
"At a workshop earlier in the year Allison Simpson told us how her mother was hidden in the ground under a sheet of corrugated iron (to avoid being taken from her family)," Dianne said.
"She showed us documents about how most Koori people couldn't get work in Eden unless they gave up their language and they couldn't associate with each other.
"It seems like a long time ago but then I realised Allison's mum is my mum's age.
"We're in a new world, people want money and things and they aren't going to get them without an education.
"Numeracy and literacy are the things children need as a basis to go to school."
The book was launched at Eden Library in December.
This story is from the Eden Magnet, 4 January 2013
and writtin by Sarah Chenhall
Visit the Eden Magnet
Related Pages
---
Rate This Page
---
Share This Page