Supporting the tourism industry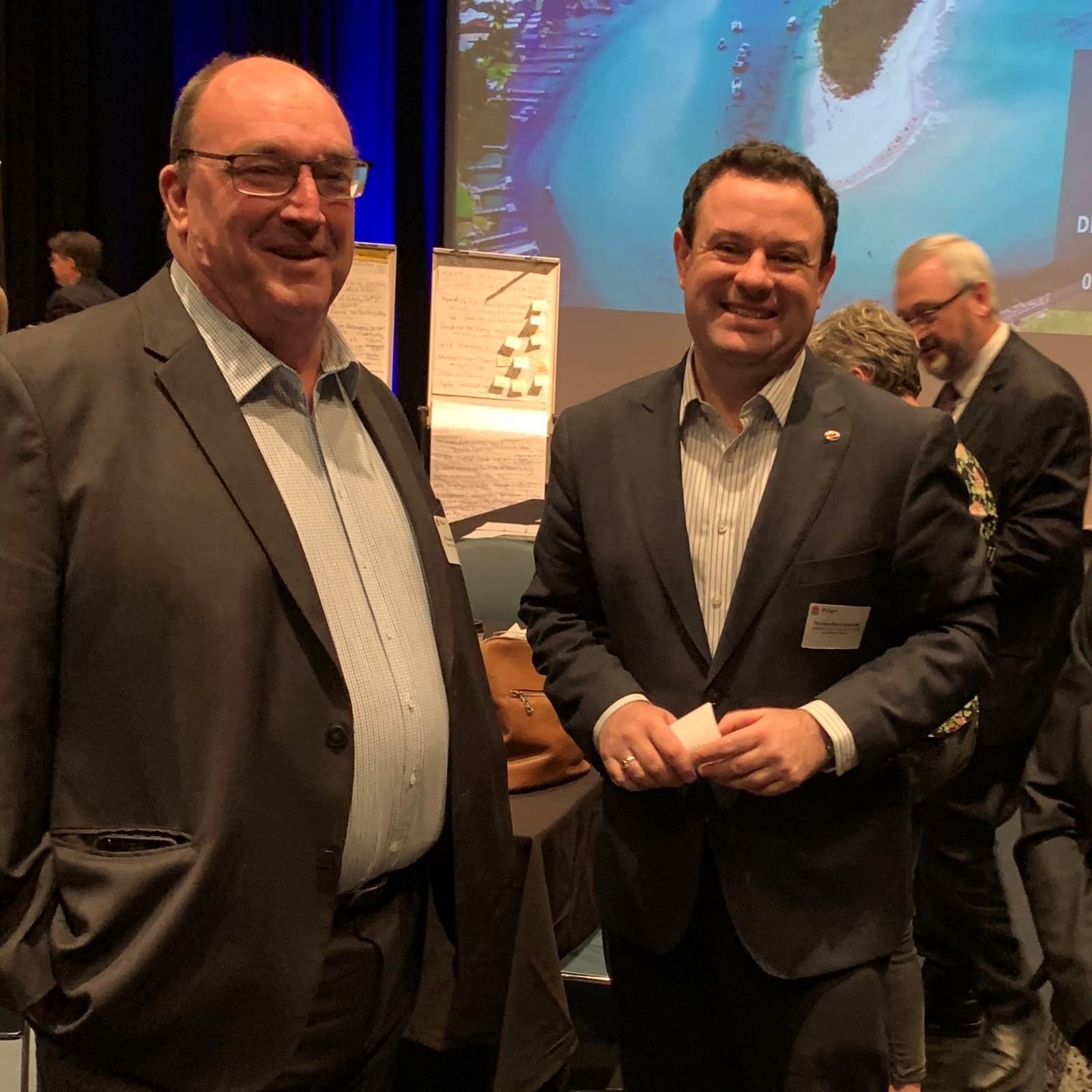 Bega Valley Shire Council Mayor Cr Russell Fitzpatrick discussing the local tourism industry with the NSW Tourism Minister, the Hon Stuart Ayres.
2 October 2020
The tourism industry and how growth can be supported and streamlined was the focus of a workshop in Nowra this week.
Bega Valley Shire Council was represented by the Mayor Cr Russell Fitzpatrick and General Manager Leanne Barnes, where they were joined by colleagues from the Eurobodalla, Shoalhaven and Kiama Councils and heard from the NSW Tourism Minister, the Hon Stuart Ayres, Minister for Local Government, The Hon Shelley Hancock, and representatives from Destination NSW.
Discussion centred on the sometimes-complex planning and approval processes for tourism ventures and events acting as impediments to recovery; opportunities for streamlining State planning policies; streamlining coastal land management agencies' leadership; and importantly how to deal with the impacts of recovery.
The outcomes and ideas from the session will form part of reviews by Destination NSW into how best to support the region to take full advantage of the current opportunities.
Cr Fitzpatrick said that despite the Victorian border closure remaining in place, we are still seeing high visitor numbers to our Shire this holiday period and it is timely to focus on the future now and continue to work with the State Government and our neighbours to achieve positive outcomes.
"Tourism is an absolutely key sector of the Bega Valley economy, with our visitors bringing money into the Shire and providing jobs and business opportunities for local people," Cr Fitzpatrick said.
"It is vital that we develop the visitor economy into a year-round, viable and sustainable offering.
"Our entire community benefits from the work done in delivering visitor economy outcomes – in a more resilient economy, jobs, recreation infrastructure, and vibrant and diverse dining experiences.
"Council is actively supporting the recovery of our tourism industry by activating local projects that build resilience in the sector. The projects include the Events Coordination program to support events in the Shire and to develop a network for local event owners and organisers, and Tales & Trails project which aims to power up the Shire's unique strengths in our whale season, our oyster industry and our fresh produce growers," Cr Fitzpatrick said.
---
Rate This Page
---
Share This Page