Huge boost to FOGO funding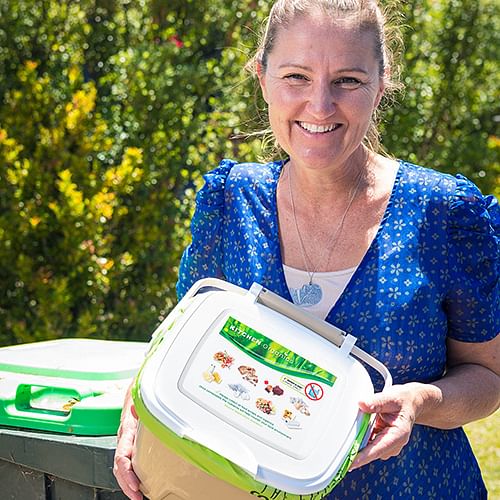 7 February 2018
A funding boost from the NSW Environment Protection Authority will go towards helping the Bega Valley community transition to major changes to its bin collection services this year.
Bega Valley Shire Council will use part of a $641,400 'Waste Less Recycle More' grant to set up a free waste hotline and enhance the features of the Bega Valley Waste App when it introduces the new FOGO waste and compost collection service.
FOGO is the acronym for the Food Organics Garden Organics service which will divert around 1000 tonnes of household waste from the shire's landfill and turn it into high quality compost.
Waste Management Coordinator, Joley Vidau, said FOGO would result in changes to the way people sorted their household waste for collection.
The changes, due to come into effect in mid-2018, apply to people who have a green bin collection service.
"One of the keys to the success of introducing FOGO is not to contaminate your green bin, so it's really important we have the right information available so people understand what waste goes in what bin," Ms Vidau said.
"We are thrilled to have been successful in this funding bid because it will enable us to better inform everyone affected by the changes. We understand and appreciate that change is difficult, but a successful transition to FOGO will be significantly less costly than continuing to manage waste the way we currently are."
Money will also go towards trialling pre-processing technology in multi-unit dwellings like holiday resorts and apartment blocks.
"The goal is to replace their green bins with technology that transforms food and garden waste into a liquid form," Ms Vidau said.
The grant will also go towards new community waste projects, hosting 'cooking with leftovers' workshops with local chefs and pursuing new opportunities for waste and recycling initiatives with school students.
The 'Waste Less Recycle More' program aims to encourage local communities to think differently about waste avoidance, recycling, littering and illegal dumping. It funds projects which deliver conveniently located, value-for-money waste infrastructure that makes it easier for households and business to 'do the right thing'. It also encourages innovative regulatory approaches to protecting the environment and supports investment in new waste programs.
Council has established a dedicated webpage for FOGO. The council expects the new hotline to be set up by March and until then people can call 6499 2222 or download the free Bega Valley Waste App.
Photograph: Bega Valley Waste Management Coordinator Joley Vidau with new kitchen caddies that the council will deliver to residents when it introduces FOGO.
END
Related Pages
Huge boost to FOGO funding
---
Rate This Page
---
Share This Page