Virus visitor restrictions as school holidays approach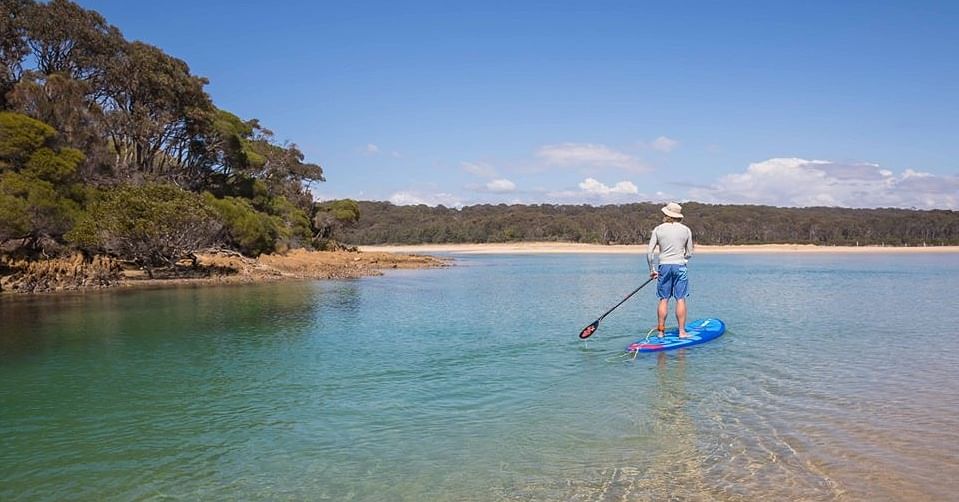 Photo: Stand up paddle boarding at Nelsons Lagoon, taken by David Rogers Photography. The Sapphire Coast will continue to be a destination of choice for holiday makers once this passes.
Friday, 27 March, 2020
Day by day businesses in the Bega Valley are having to adjust to the changing health advice from State and Federal agencies around COVID-19/Coronavirus.
This week's Public Health Order from the NSW Health Minster prompted further changes.
"Following the bushfires during our peak holiday season, many far and wide heard the call to visit the Sapphire Coast as a way of supporting local communities," says Mayor Kristy McBain.
"We are now in the position of once again having to turn tourists away for the time being in response to the Coronavirus threat."
Public Health (COVID-19 Gatherings) Order (No 2) 2020 requires caravan parks and camping grounds to close to holiday makers.
"Our local operators understand the need but that doesn't make it any easier for them," Cr McBain says.
Each accommodation provider in the region is making their own business decisions in this challenging climate. Council will continue to look for ways to support the families and workers connected to these businesses.
The approach some have taken is to close all holiday bookings for the foreseeable future including Easter, but to remain open in order to meet the needs of travellers and those with no permanent residence.
This common-sense approach within the context of social distancing and increased hygiene measures, is one that looks to help flatten the curve while providing comfort and safety for people who need it.
"This is a testing time in our community on a number of fronts and I ask residents and any visitors with us to be mindful of each other's needs and emotions," Cr McBain says.
"Goodwill during this shared experience will see us through."
Council is advising anyone with holiday bookings to contact their accommodation provider directly and consider deferring their travels to a time in the future rather than cancelling all together.
"Holidays and down time will return and our region will continue to be a destination of choice for holiday makers," Cr McBain says.
On top of the advice to privately owned campground and caravan park operators, the NSW Government has also closed all campgrounds with NSW National Parks and State Forests until further notice.
Council has also increased ranger patrols of public reserves to discourage free and roadside camping.
Local businesses can make contact with Dan and Alison in Council's Economic Development team via economicdevelopment@begavalley.nsw.gov.au
---
Rate This Page
---
Share This Page