No water restrictions for now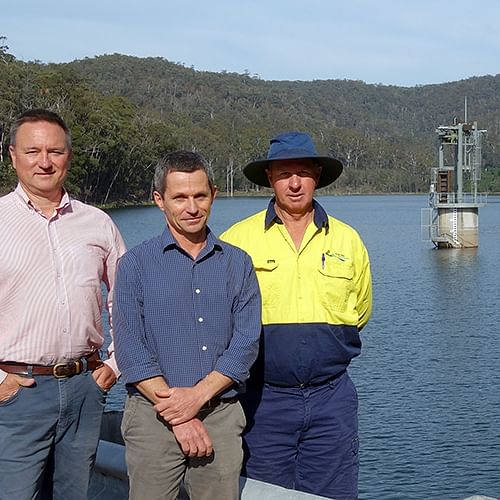 23 October 2018
Despite the long spell of dry conditions this year and forecast of a further dry El Nino period ahead, the need for water restrictions across the Shire remains unlikely this summer.
Yellow Pinch Dam is currently at 90% capacity, Ben Boyd Dam at 100% capacity and the groundwater level in the Bega and Kiah aquifers is high, with a surface flow persisting at the bore fields.
Bega Valley Shire Council Manager of Water and Sewerage Services, Jim Collins, said that this volume of water in our storages is sufficient to ensure water demands over the summer can be met without water restrictions.
"These levels have us in a favourable position compared to the millennium drought years and other parts of NSW – we are well placed with no immediate supply concerns," Mr Collins said.
"It is important to understand what water restrictions are for, that they are used appropriately and that they remain an effective tool in reducing demand when really needed.
"It has been dry and the outlook for summer rain is not encouraging so I can understand why some people are requesting we introduce restrictions prior to summer to conserve water supplies, however the most appropriate time for implementing these measures is not now."
The Local Government (General) Regulation 2005 says a Council may place restrictions on the use of water if the available stored water, or the available capacity of supply, is so limited to make extraordinary measures necessary in the general interest of water consumers.
The primary trigger for introducing water restrictions is an assessment of water shortage relative to forecast water demand. For the south of the Shire this is when Yellow Pinch Dam reaches 60% capacity.
Yellow Pinch Dam is predicted to fall from 90% to 60% capacity in about 12 months (assuming very low rainfall and dam inflows).
Mr Collins said it was important to stress that this does not mean people should be complacent or wasteful with water.
"We very much appreciate the voluntary efforts people make to conserve water," Mr Collins said.
"Encouragingly, we have a relatively low water use per connected property in this Shire compared to other parts of NSW due to community understanding and the practical measures people take every day.
"Using water efficiently and sensibly is always important to do and helps to conserve the volume of water in dams and local waterways, leaving more for the future and the environment.
"It also reduces the amount of electricity used to supply reticulated water and associated greenhouse gas emissions.
"With many people in rural areas experiencing hardship due to the lack of rainfall, it is important that those with access to town water continue to take care and avoid wastage to help minimise community anxiety and potential conflict over water use," he said.
Two water supply systems that are reliant on water from dams not owned by Bega Valley Shire Council are the Brogo-Bermagui and Bemboka water supply systems.
The Brogo-Bermagui water supply system has over 1000 megalitres of water guaranteed by Water NSW from Brogo Dam (currently at 63% capacity) for town water supply to July 2020, with the volume used annually only around 350 megalitres.
The small Bemboka village water supply is partly dependent on a drought reserve held in Cochrane Dam.
"We will continue to work with the operators of the Brogo and Cochrane Dams and the NSW Department of Industry - Water to ensure these dams retain enough water to meet town water supply entitlements over summer and beyond in the context of the Water Sharing Plan for the Bega and Brogo Rivers," Mr Collins said.
Further information on applying basic techniques for water conservation to everyday activities are available on your water notices and Council's website.
Photograph: Bega Valley Shire Council Water and Sewerage Services Manager Jim Collins, Water Resources Coordinator Ken McLeod and Merimbula Team Leader Peter Climpson at Yellow Pinch Dam this week.
END
---
Rate This Page
---
Share This Page