Damaged trees get a new home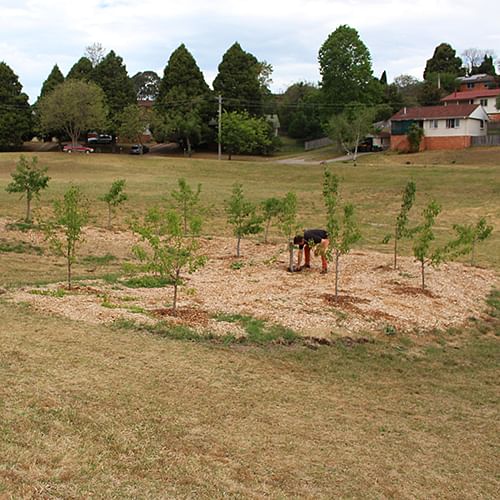 23 October 2017
The trees vandalised in Littleton Gardens in May 2016 have found a new home.
Around 40 Manchurian Pear trees were hacked, snapped, and damaged, in an act that outraged and upset the community.
CCTV footage helped identify two young people following the incident and they were dealt with by police under the Young Offenders Act.
The damaged trees were potted in the hope they could heal and grow again and while approximately half were too badly affected to allow for rehabilitation, the 19 strongest have just been replanted in Bega's Girraween Park.
Council's Recreation Assets Officer, John Turville, said the Tulgeen team at Riverside Nursery have done a fantastic job nursing the trees back to health.
"These trees have been through a lot, so it's amazing to see them throwing out new shoots and settling into their new home," Mr Turville said.
"When fully grown, the Manchurian Pear trees will stand up to 8 metres tall and have a big presence in the local neighbourhood, with residents being able to look down on a blaze of red, yellow, orange and purple each autumn, followed by a bright flush of white flowers in spring.
"While the trees have bounced back strongly from their rough treatment, they will still need some care and attention. Regular pruning in these early days will help the damaged trunks restore their natural upward growth pattern," Mr Turville said.
Council is also making plans to replace the aging picnic shelter in Girraween Park.
Mr Turville pointed to this process as again highlighting the importance of green space for any community.
"Aside from allowing kids to play and burn energy, time in the natural world is good for personal and community wellbeing. We can plant new trees and erect new picnic shelters, but it is a sense of community that brings parkland to life. This is what drives my work at Council," Mr Turville said.
Littleton Gardens is now home to a range of species and as they head into their second spring, they are starting to find their form and add presence and shade to this important green space.
Photograph: Council's John Turville tending to the Manchurian Pear trees in Girraween Park.
END
Scroll down to Like | Share | Comment on this page
---
Rate This Page
---
Share This Page
---