Gallery upgrade is shovel ready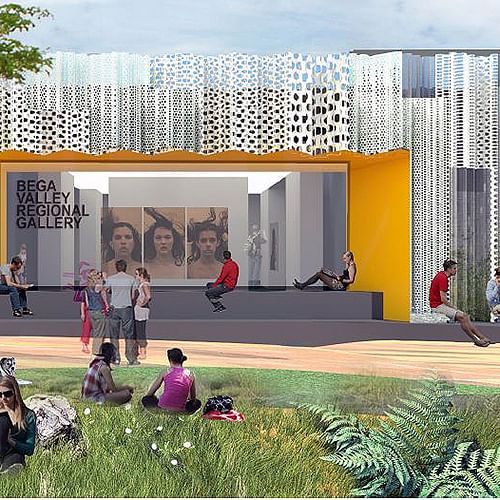 3 October 2018
Progress towards the planned redevelopment of the Bega Valley Regional Gallery (BVRG) continues, with the Development Application now approved and the final business case submitted to the NSW Government's Regional Cultural Fund for assessment.
Encompassing expanded exhibition and storage spaces, contemporary environmental control and lighting and a hireable workshop space; the concept design also features a more welcoming and accessible façade that allows the community to view artworks 24/7.
BVRG Director, Iain Dawson, said a successful bid for funding could see work on the game changing project commence as early as the first half of 2019.
"This is a once in a generation opportunity to deliver an art gallery that is in line with the community's expectations and allows us to deliver a program of exhibitions and cultural activities that inspire, challenge and mirror the vision we have ourselves here in the Bega Valley," Mr Dawson said.
"I want to thank the community and our key stakeholders for their incredible support and the team here at Council who have worked tirelessly over the past 12 months to bring this elegant plan to life – excitingly we now stand shovel ready.
"The case for change is strong and there is a demonstrable need for updates to our much-loved gallery.
"We are all hopeful of a positive result, which will allow us to continue to grow our reach, broaden our offering and subsequently attract more and more people to participate in the visual arts in the Bega Valley.
"In 2017, the 22,000 visitors to the BVRG (40% of these were visitors to the Shire) added $1.3million to the local economy.
"The proposed new gallery has the capacity to draw even more visitors and reach a broader local and tourist audience also," Mr Dawson said.
Through the investment of $100 million over two years, the Regional Cultural Fund aims to strengthen regional arts, screen, culture and heritage, and revitalise local communities through strategic investment across NSW.
This round will offer applicants a share in $47 million in funding, including up to $5 million specifically for regional public library infrastructure projects, and support for the creation and installation of artist-led public art.
Photograph: The planned redevelopment of the Bega Valley Regional Gallery is now shovel ready.
END
---
Rate This Page
---
Share This Page