Bemboka community to choose site for award-winning sculpture
28 August 2020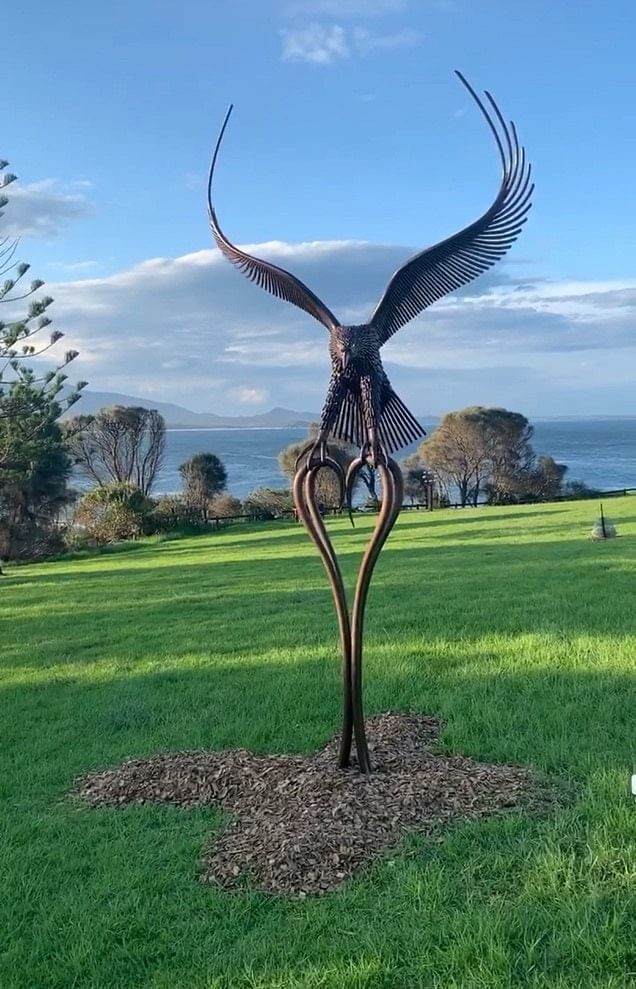 Council is seeking feedback from the Bemboka community, by Sunday 13 September, to choose the site of an award-winning sculpture donated to the village.
The sculpture – Landed – is an eagle landing with its legs stretched and talons gripping the shape of a heart, which was created by Moruya artist, Thomas Westra. Landed won the Bermagui Sculpture by the Sea competition in 2019.
"We've narrowed it down to two possible sites, working within the boundaries of predetermined criteria, which include site ownership, adequate land clearance, visibility and installation costs," Bega Valley Regional Gallery Director, Iain Dawson said.
"Site 1 is in Bicentennial Park on the corner of the Snowy Mountains Highway and Hoskins Street. Site 2 is near the public toilets on the corner of Adams and Loftus Streets.
"Public art is a captivating way of celebrating the identity and history of a community, enhancing the environment and contributing to a sense of place.
"The Bega Valley has number of public artworks including sculptures installed at various key locations throughout its towns and villages."
Thomas Westra began experimenting with the art of forging hot steel 25 years ago and found sculpting it to be most exciting, with endless possibilities. It is now his full-time job.
"I based Landed on the themes of exploration, searching and discovery; holding onto the special things in life, as well as achievement and passion.
"I chose the mighty eagle as a symbol of these themes and its ability to soar to great heights. Across cultures and society, the eagle is often a sign of freedom, strength, courage, resilience, healing and vision.
"The sculpture is made of hundreds of separate metal parts welded together. An eagle has powerful vision and the ability to see for many kilometres, so I created its large eyes from mirror polished stainless steel.
"I hope the people of Bemboka can embrace Landed as an emblem for the community in their own special way. As we know with art, the message is really in the eye of the beholder."
This sculpture was chosen by the Council's Public Art Advisory Panel, comprising Cr Robyn Bain, Mr Dawson, South East Arts Executive Director Andrew Gray, and community members with arts expertise, Carolyn Killen (Ivy Hill Gallery, Wapengo) and Rob Evans (Artessence Gallery, Pambula).
The Landed sculpture was selected at Sculpture Bermagui, made possible via the $10,000 acquisitive sculpture prize and topped up by very generous $8,000 donations from Stephen Pope of Pope Logging, Eden, Raymond and Nicole Innes of Cyneve Contracting, Stephen Cocks of Cocks Logging, Mal Higgins of Sapphire Coast Tree Services, Peter Mann of Kothes, Allied Natural Wood Exports Eden and Rob and Robyn Bain.
Council has published a Have Your Say page and a voting poll for the community of Bemboka to 'have their say' on the preferred site for the sculpture.
Have Your Say and the poll closes on Sunday 13 September 2020.
---
Rate This Page
---
Share This Page