Isolation + Candlelight + #EarthHourLive = a fun night at home!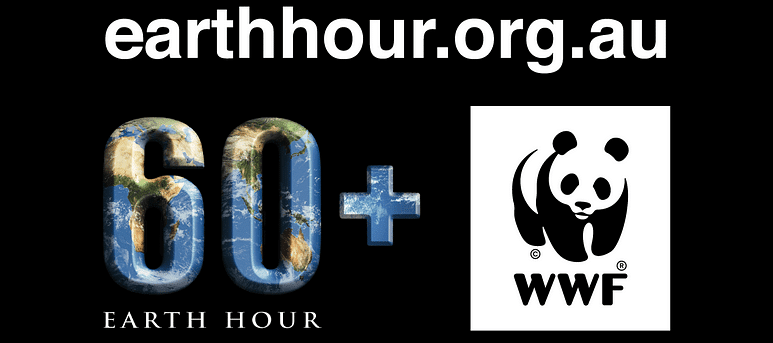 27 March 2020
Join the global conservation movement and take part in Earth Hour by switching off your lights at home at 8.30pm for 60 minutes as a symbolic gesture of solidarity.
For those of you who want to be entertained, switch on your computer/laptop/mobile phone so you can enjoy #EarthHourLive from 8.30pm AEDT from the comfort of your own couch! Earth Hour will live stream an entertaining line-up of musicians, comedians and special guests.
BUT if that's not your thing, switch off the lights, switch off electrical items, dig out the candles, torches, lanterns or glow sticks and join people all around the world doing doing #SwitchOff for Earth Hour.
Here are some alternative ideas:
Stargazing in the backyard or take a trip to a park or beach. Lay down a blanket, pack some delicious snacks, maybe even a thermos of hot cocoa.
Tell ghost stories by torchlight.
Play hide and seek in the dark.
Roast marshmallows by candlelight. Use a beeswax candle and chopsticks as roasting sticks, but keep your fire extinguisher nearby just in case.
Tweet or Facebook with other Earth Hour participants. Make some new friends, get some new followers and get in on the buzz.
Fingerpaint in the dark. Have a laugh at your results or perhaps get a surprise at the masterpiece you've created.
Have a front or backyard catch-up session with the neighbors.

From 1.5m distance of course

. Check in with how they're going at this tricky time.
Glow in the dark art with glow in the dark markers or paint.
Build a fort with the couch cushions and then read a classic by candlelight.
Wildlife spotting. The bush becomes alive with activity at night! Go for a wonder to hear or see for yourself! Remember the trick is to be super quiet so you don't scare them away. Use a red torch or put red cellophane over your torch with an elastic band. This will allow you to watch them for longer as it won't disturb them and you won't damage their night vision. Alternatively, download the frog ID app, head to a creek or wetland area and discover which frogs live near you.
Shadow puppets.

Find a place where the moonlight is strong and see who can make the best shadow puppets.

Game night by candlelight. Light some candles in jars and pull out your board games, puzzles, jenga, twister and taboo cards.
Go to bed early. Come on, you know you deserve it.
Candlelit dinner. Everything tastes better by candlelight. Perhaps you could order takeaway and support a local restaurant.
Have a campfire. Share stories and make some delicious s'mores. Just be sure to do it safely and check local fire restrictions allow this.
Get musical. Pull out your instrument and have a tinker surrounded by candlelight, feel the ambiance!
Self-care: an hour of darkness is a great excuse to take some time for yourself and focus on your mental health. Light a few candles and take a relaxing bath, brew a cup of tea and focus on decompressing after a long week.
Glow in the dark sticks dance party. Go retro and use an old battery operated boom box and play your favourite 80s mix tape.
Go for a walk. Walk the dog. Walk along the beach and see the water glisten with moonlight.
Night time photography. Try your skill at taking night time photos. Think sparklers and a slow shutter speed.
What else can you do to raise your voice for nature? Register to #SwitchOff as every time someone signs up, a letter is sent to 25 key Australian politicians asking for stronger action on climate change.
You can also join Earth Hour's Social Media Blackout. For this one night, you can use the power of social media to make a statement by turning your newsfeed black!
This year, Earth Hour is more important than ever. In Australia this summer:
over 12 million hectares of land burnt during an extended fire season
over 1.25 billion native animals perished in these catastrophic bushfires
the country was shrouded in a toxic smoke haze.
Register to #SwitchOff now and join the biggest online house party ever!
---
Rate This Page
---
Share This Page