Community solar farm wins Green Globe
Tuesday 20 October 2015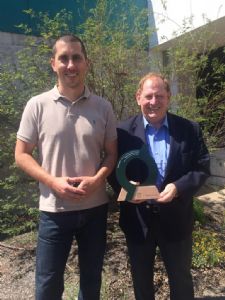 Bega Valley Shire Council has received a prestigious Green Globe Award for the Tathra Community Solar Farm, a joint project of Council and the community organisation, Clean Energy for Eternity.
The project won the Climate Change Leadership category of the awards which recognise environmental excellence, leadership and innovation.
Mayor Michael Britten said that, as one of Australia's first community solar farms, the project is both practical and aesthetic, creating a working solar farm generating electricity and an art installation.
"The 30 kilowatts ground-mounted solar installation, arranged to form the word 'IMAGINE' can be clearly seen by passing flights," he said.
"It is a leading example of how local government can work with its community to tackle key challenges in a positive way.
"The energy generated by the panels offsets electricity used by the Council-owned Tathra sewerage treatment plant.
"Money saved is placed into a fund managed by CEFE for future community projects.
"This approach not only ensures that these projects are efficient and well-targeted, but maintains a clear community connection and engagement throughout the solar farm's lifetime.
"The success of this project has led to Council working towards providing similar solar assisted energy sources for its other treatment works."
Cr Britten congratulated Council staff on receiving the award and on the effort they had put into the project and CEFE, which won Dr Nott a Green Globe award in 2007.
Photograph: Council's Environmental Management Coordinator, Daniel Murphy with Mayor Michael Britten and the Green Globe award.
END
---
Rate This Page
---
Share This Page