FOGO expands to Wonboyn, another waste voucher for all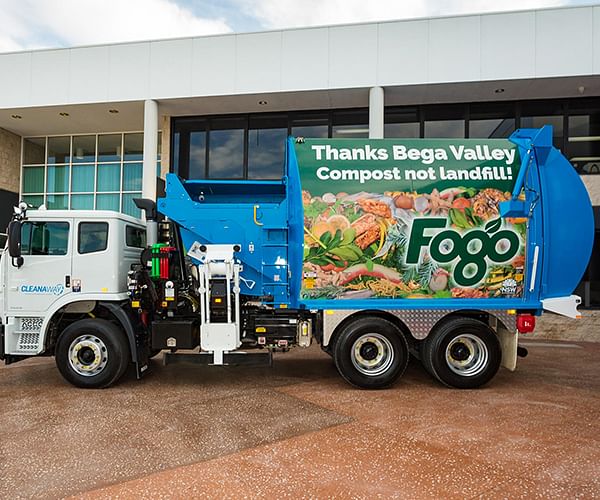 5 December 2019
Bega Valley Shire Council is rolling out the Food Organics Garden Organics (FOGO) kerbside collection service to Wonboyn residents from Friday 13 December.
The FOGO service, introduced in October 2018, has diverted 30% of household waste away from landfill and into our composting facility.
FOGO has been the key to slowing down the rate at which the Shire's landfill facilities are filling up and the impressive low contamination rate of 0.4% shows that FOGO customers are using their green, red and yellow bins wisely.
"On the back of this success, it makes sense to expand the FOGO service and the green-lidded organics bins will start to be delivered to homes within the Wonboyn town limits from the week starting the 9th of December," said Chris Best, Manager Waste Services.
A kitchen caddy and compostable food waste bags will also be delivered to those residents.
A letter was posted to all affected Wonboyn residents last week providing detailed information about the changes the new kerbside service will bring.
"I'd also like to let people know that we'll be issuing one more waste voucher to each household Shire-wide in preparation for the summer bushfire season, as people start clearing their gardens and properties of unwanted vegetation and other materials.
"We regularly review our waste services to meet community need and we hope that these extra vouchers will enable people to keep their properties maintained in line with NSW Rural Fire Service recommendations as we head into summer," Mr Best added.
People can expect to see the additional waste voucher in their letterboxes from Monday 16 December.
More information about the FOGO service is available on Council's website at www.begavalley.nsw.gov.au/Waste with links to the Bega Valley Waste App.
We welcome your questions about our Waste and Recycling Services on (02) 6499 2222.
Photo: FOGO collections will start in Wonboyn soon.
END
Related Pages
FOGO expands to Wonboyn, another waste voucher for all
---
Rate This Page
---
Share This Page