FOGO is a go-go!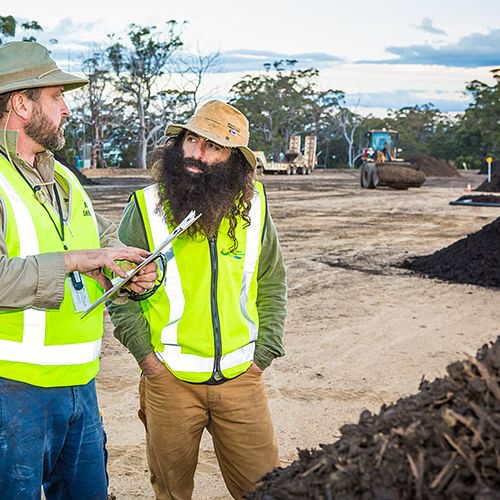 Friday, 18 August 2017
The Bega Valley's 'War on Waste' has been turned up a notch with Councillors voting in favour of introducing a new household Food Organics and Garden Organics (FOGO) collection service.
What is now waste will be turned into high quality compost, diverting material away from landfill.
Bega Valley Shire Council will join 34 other councils already using FOGO, with the first pick up of this exciting service in July next year.
ABC TV Gardening and recycling guru, Costa Georgiadis toured the Merimbula Waste and Recycling Depot earlier this month, expressing his delight at the food and organics collection technology that Council has been trialling over the past two years.
"The progress you have already made is impressive, but with the introduction of household FOGO the production will just explode. I can't wait to come back and see it," Mr Georgiadis said.
On average, 53% of the contents of your red bin is compostable, which currently ends up in landfill. Once FOGO is introduced next year, residents will be asked to change their habits and embrace this positive response to waste.
"To turn waste into organic compost and make it available for local gardens, schools, community groups and sporting projects is such a win," Mr Georgiadis
Essentially anything that once lived will be able to go in your FOGO bin - garden waste including trimmings, clippings and prunings, meat and dairy, egg shells, seafood, take away food, vegetable and fruit scraps. Additionally, tissues, paper towels, shredded paper, kitty litter and animal droppings.
"To know that our waste is doing something good for the community instead of going into landfill is a great thing," Mayor Kristy McBain said.
The new FOGO collection service will be introduced to all residents who currently have a residential compost (green bin) collection service. Green bins will move to a weekly collection cycle, red and yellow bins will be collected fortnightly.
"Producing high quality compost from what is now waste opens up all sorts of possibilities, whether it's for your backyard vegetable patch or your local sporting field," Cr McBain said.
"FOGO will also result in less methane escaping into our atmosphere, reducing our greenhouse emissions."
Bega Valley Shire Council will step forward in the coming months with a significant education and awareness campaign.
In the meantime, Council has established a dedicated webpage with further information at www.begavalley.nsw.gov.au/waste or call 6499 2222.
Photograph: Costa Georgiadis (right) talks organic waste with Bega Valley Shire Council's Mick Jarochowicz during a visit to the Merimbula Waste and Recycling Depot.
END
Scroll down to Like | Share | Comment on this page
---
Rate This Page
---
Share This Page
---