Business Support Group helps build Amanda's networks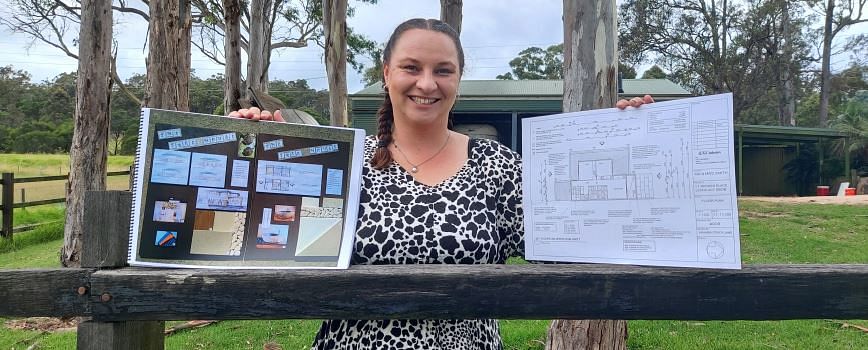 12 March 2021
Amanda Kate (above) is a qualified and experienced interior architect and designer of 15 years. Last year Amanda relocated to the Bega Valley with her family from Canberra, with the resolve to start her own business – Design Lingo.
Amanda can be involved in the early stages of house design and construction, advising on key structural requirements for practical and efficient use of internal spaces, or advise on the aesthetics, function and flow of the spaces in a home.
Being new to the Bega Valley, Amanda had difficulties building a client base and potential referrers. She needed to reassess her target market as the far south coast clientele is considerably different to the Canberra market.
"I subscribe to Council's Business News and after reading about the Business Support Group (BSG), I decided to register with them for support," Amanda said.
"I was particularly interested in the services and products offered by BSG member, Many Rivers; helping people gain the skills and knowledge to start and sustain a small business, including practical support with business planning."
Many Rivers Microenterprise Development Manager, Matt Beare worked with Amanda to increase her networks within the shire, particularly with local builders and tradies.
"Amanda had some great ideas to increase exposure for her business, so we worked on a specific marketing plan and timelines to gain maximum traction," Matt said.
"This has resulted in Amanda building her referral and client base over the past months, and she is working on developing client packs and referral packs to highlight her passion and skills.
"Amanda has a great and unique business and I have no doubt the Bega Valley community will soon understand what benefits she can bring to their builds, renovations and refurbishments."
Related Pages
Business Support Group helps build Amanda's networks
---
Rate This Page
---
Share This Page