Erosion and sediment control at Tathra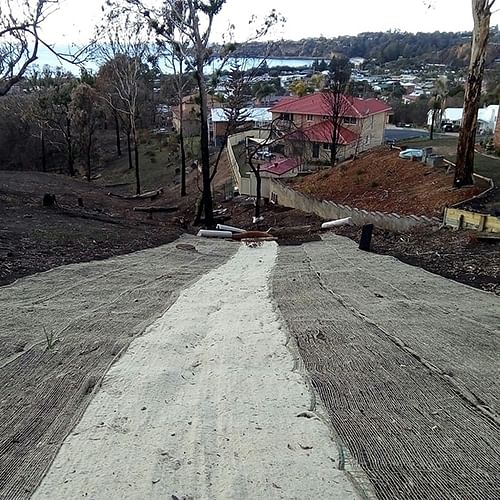 23 August 2018
Work continues on the stabilisation and rehabilitation of the asset protection zones in and around Tathra.
As part of the broader Green Shoots program, Council is currently undertaking a number of erosion and sediment controls activities in the area between Fauna Grove, Wildlife Drive and Ocean View Terrace.
Council's Acting Environmental Management Coordinator, Michael Fiedler, said the Department of Primary Industries (Crown Lands) have provided generous grant funding to enable the purchase of erosion control products and the subsequent environmental restoration.
"The work involves spreading seed and deploying jute mesh and other sediment control solutions to secure the bare ground on the steep land in these locations," Mr Fiedler said.
"As part of this work, contractors have also been engaged to spray mulch (Hydromulch) over the ground, which contains a mix of native and exotic seeds (this will commence next week).
"The Hydromulch will protect the bare ground from further erosion and provide temporary protection until grass becomes established.
"Importantly these measures will complement and further enhance the sediment controls already deployed, which have so far proved vital in preventing large quantities of soil and sediment from entering our waterways and stormwater infrastructure," Mr Fielder said.
Council requests that everyone using the reserves avoids the hydromulched areas to allow the grasses to become fully established as quickly as possible – signage will be in place.
For more information contact Michael Fiedler on (02) 6499 2222.
Photograph: The deployment of jute mesh is just one measure that has been put in place to control sediment and erosion in Tathra.
END
Related Pages
Erosion and sediment control at Tathra
---
Rate This Page
---
Share This Page