Event to celebrate pioneering program for people with memory loss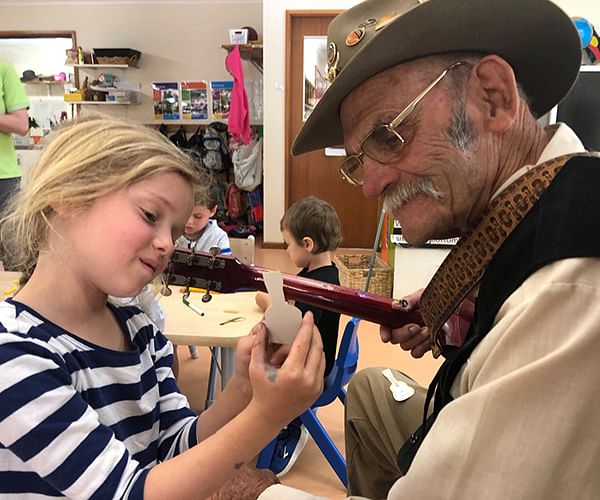 25 November 2019
Bega Valley Shire Library invites the community to a special event to mark the success of a pioneering program called Connecting Through Memory to be held on 5 December 2019 at 10.30 at the Bega Library.
The program, which is the first of its kind in Australia and funded by Dementia Australia, supports people who may be experiencing some memory loss or social isolation to remain engaged and active as valued members of their communities.
At the event, participants will share their experiences through performances, displays and craft activities, including live music from program participant and local country singer Ross Lowe.
Children and staff from Bandara and Eden Early Learning Centres, where some of the Connecting Through Memory sessions took place, will also be there alongside Program Coordinator, Hayley Reynolds.
The Connecting Through Memory program started in May 2019 and has helped push aside some of the stigma around ageing and memory loss that older community members and their carers face every day.
"Children have an innate respect for older people. They are naturally inclusive in that they show us how to look past any physical or cognitive decline, which is why this program is so important to our community," Ms Reynolds said.
Council's Programs and Partnerships Officer, Scott Baker said that the children see participants as grandparent figures who will sing songs, make craft, tell stories and laugh with them.
"Combating isolation, loneliness and depression in people who may be experiencing some memory loss has been a significant benefit coming out of this ground-breaking program," Mr Baker said.
"Our tailored program has boosted the self-esteem of participants by sharing and celebrating their memories and providing opportunities to create positive memories based around meaningful activities with the preschool children."
Participant Ross Lowe reported receiving a huge boost from the appreciation he received from children for his musical talent despite his initial doubts that he had anything of value to contribute.
After a recent session at Eden Early Learning Centre where he entertained the children with his singing and guitar, Mr Lowe said, "It's really wonderful when people appreciate you and what you do, I think the kids loved it today and so did I - it's good for all of us."
Importantly, the Connecting Through Memory program has been designed in such a way that it can be rolled out to other libraries, early childhood learning centres and councils.
Connecting Through Memory has been such a success and seen so many positive outcomes for older community members, their carers, children and educators, that the Library is actively investigating funding sources to see its continuation into 2020.
"Our libraries are committed to forging Intergenerational relationships in our communities – look out for us in Bermagui next year," Mr Baker added.
You can view a short video about the Connecting Through Memory program at https://www.facebook.com/begavalleyshirelibrary/videos.
Connecting Through Memory is funded by Dementia Australia's Dementia Friendly Communities Program.
Scott Baker is available for more information - sbaker@begavalley.nsw.gov.au or (02) 6499 2172.
Photograph: Ross Lowe and Katie enjoy music together at Eden Early Learning Centre.
END
Related Pages
Event to celebrate pioneering program for people with memory loss
---
Rate This Page
---
Share This Page