FOGO start set for October
More than 12,000 town residents will go to a new, innovative way to manage waste when Bega Valley Shire Council introduces the FOGO bin collection service from October 29.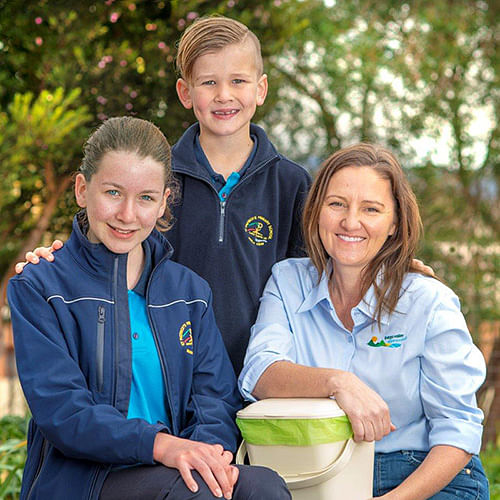 More than 40 NSW councils are using FOGO which stands for Food Organics Garden Organics. In the Bega Valley, the new service will divert around 1000 tonnes of organic waste from landfill each year and turn it into high quality compost.
When FOGO starts, weekly collections will replace the current four-weekly garden organics collection for households who currently have a green bin service. There will be no change for people who don't have a green bin service.
Waste Services Manager, Toby Browne, said FOGO is a simple way to make a big improvement in waste management.
"Instead of sending food scraps to landfill, residents will be able to put them in with their garden waste which will be made into high quality compost at the Merimbula Recycling and Waste Depot," Mr Browne said.
"We are excited to introduce FOGO because it saves on landfill, results in a valuable resource and gives us all an opportunity to be smarter with waste."
A $641,400 Waste Less Recycle More grant from NSW Environment Protection Authority is helping with the transition, including the purchase and distribution of kitchen caddies.
Householders will know it's time to start 'FOGOing' when they receive their kitchen caddy, which is a small, lidded bin that can sit on the kitchen bench or under the sink.
Additionally, the grant will go towards a free waste hotline and enhanced features on the Bega Valley Waste APP. Information booths are also in Council libraries and tips and Council has established a dedicated FOGO webpage that includes frequently asked questions.
"Making sure there is no contamination of the compost product is the key to ensuring the success of FOGO, so it's really important we have the right information available on what waste goes in what bin," Mr Browne said.
"We understand and appreciate that change can be a challenge, but we have a great community here and most people understand how important it is that we reduce the amount of waste we produce, and ensure that we recycle as much as possible."
The Waste Less Recycle More program aims to encourage local communities to think differently about waste avoidance, recycling, littering and illegal dumping.
It funds projects which deliver conveniently located, value-for-money waste infrastructure that makes it easier for households and business to 'do the right thing'.
It also encourages innovative regulatory approaches to protecting the environment and supports investment in new waste programs.
Related Pages
FOGO start set for October
---
Rate This Page
---
Share This Page