Cathy Griff and Jo Dodds reflect on their bushfire experiences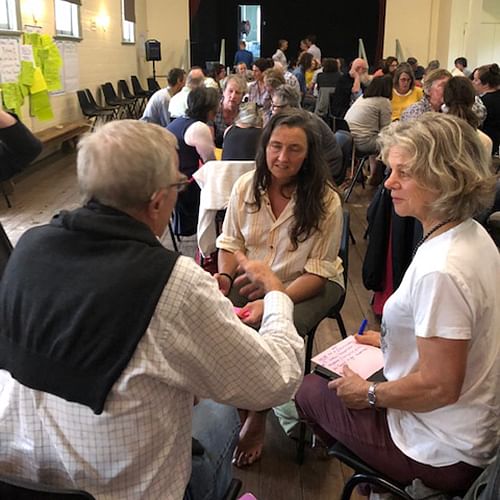 14 February 2020
Councillor Cathy Griff wasn't surprised when a neighbour called her at 4am on the last day of the year, 2019.
"There were plenty of signs warning of these fires – the Fires Near Me app showed an ominous finger darting from the fire on Mumbulla Mountain straight to my piece of paradise at Tanja," she explains.
Cr Griff packed up her car, called her dogs and joined the gathering crowd at the Tathra Surf Life Saving Club.
"I was alone that day, so leaving was my only option."
For Cr Griff, the bushfires highlight the value of planning for future climate resilience.
"Many residents are keen to progress Council's draft Climate Resilience Strategy to prepare our unique Shire for likely future fires and extreme weather events," she says.
As well as spending time listening to people's bushfire experiences and stories from across the Shire, Cr Griff has been one of the many volunteers at Eastwood's Deli and Cooking School in Bermagui as they've worked in partnership with the World Central Kitchen to produce thousands of meals to feed people in need from Mogo to Mallacoota.
"Whether through direct flames or major loss of pristine environment, neighbouring properties, animals, income, and workplaces, the bushfire impact has hit all of us," says Cr Griff.
Thinking of the Tathra and District experiences, Councillor Jo Dodds acknowledges the challenges that local communities will contend with as they contemplate the future.
"The lessons of Black Saturday suggest that communities take many years to regenerate after a crisis such as destructive bushfire.
"In the Tathra district, nearly two years after our fire, life hasn't been easy for most of us - rebuilding of homes is very slow, there are so many decisions to be made, documents to be replaced, and our landscape still looks bleak as even the oldest trees, that survived the flames, now bow to drought.
"We are perhaps wiser, more alert to threats and to the needs of those around us who are struggling, than before. And as we turn towards uncertain futures it's never been more important to work together, take care of those around us, and seek help when we feel overwhelmed," says Cr Dodds.
Photo: Councillor Cathy Griff chats with people at Cobargo Hall.
END
---
Rate This Page
---
Share This Page