Next step for local Aboriginal liaison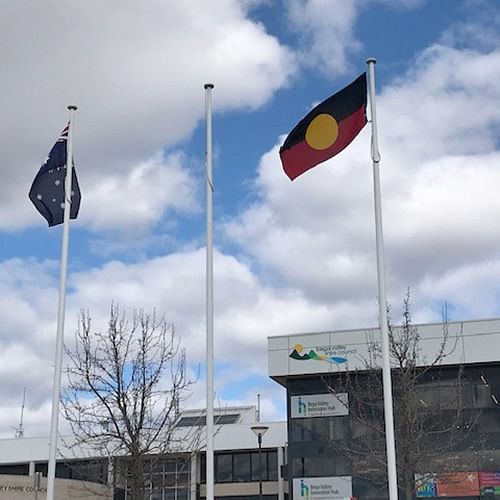 8 August 2019
A new Aboriginal liaison committee will enter the local scene to support the implementation of Council's Memorandum of Understanding (MoU) with the Eden, Bega and Merrimans' Local Aboriginal Land Councils (LALCs), as resolved by Bega Valley Shire Councillors at their meeting yesterday.
Mayor, Cr Kristy McBain, said the new committee will be called the BEM Liaison Committee after the three Local Aboriginal Land Councils (LALCs) – Bega, Eden, Merrimans'.
"People have told us that they want closer involvement with their elected Council around implementing actions under the MoU.
"The BEM Liaison Committee will be a formal community committee with the job of providing advice and making recommendations to Council to support the cultural, environmental, social and economic interests of local Aboriginal people," said Cr McBain.
The Committee will be made up of nine members - two representatives from each LALC, the Mayor or representative and two members of Council staff; members of the Committee will be appointed for the term of Council.
"An exciting aspect of the BEM Liaison Committee is that a youth representative from each LALC will be invited to attend meetings as an observer and this bodes well for our combined future.
"I hope this move will encourage young people to take an interest in decision-making and that valuable knowledge will be passed on to the upcoming generation of leaders," added Cr McBain.
Council first entered into an MoU with the Bega, Eden and Merrimans' LALCs in 2001. The intent of the MoU is to support reconciliation and the advancement of Aboriginal people within the Bega Valley.
From time to time the MoU has been reviewed and updated to ensure its intent is relevant to the needs of the communities.
Formal reviews happen in line with local government elections and next year's review will involve extensive engagement with local Aboriginal people.
At its latest meeting, Council also adopted the suggested Guidelines for the BEM Liaison Committee, which details the roles and responsibilities of committee members.
The BEM Liaison Committee will be established under section 355 of the Local Government Act 1993.
Photo: Aboriginal and Australian flags fly side by side in Littleton Gardens, Bega.
END
---
Rate This Page
---
Share This Page