Vehicle Activated Signs installed
1 June 2018
Motorists travelling in and out of Pambula Beach will have noticed the recent installation of two new Vehicle Activated Signs (VAS's) either side of Lumen Christi Catholic College.
The new initiative comes on the back of the Bega Valley Local Traffic Committee* consistently raising safety concerns around the drop off, pick up and parking activities along Pambula Beach Road in the vicinity of the school.
Subsequent Council investigations into these concerns and transport movements on Pambula Beach Road identified the VAS's as a potentially effective danger mitigation measure.
A 100% funding opportunity arose through the Vehicle Activated Sign Program as part of the wider NSW Safer Roads Program, with Bega Valley Shire Council successfully gaining $17,000 for the installation of the two signs.
It is expected that the VAS's will play a role in improving driver behaviour and ensure the signposted speed limits are adhered to.
Council and other key stakeholders are continuing to work through longer term options that improve safety and the interaction between pedestrians and on and off-street traffic in the area.
The Safer Roads Program is a partnership between the Centre for Road Safety and Roads and Maritime Services to deliver safer roads infrastructure throughout NSW, including around schools.
The program identifies roads and roadsides with a higher risk or incidence of high-severity crashes, or crashes involving vulnerable road users. Targeted infrastructure projects at these locations use engineering treatments to reduce the occurrence and severity of crashes.
Location of variable Message Board on Pambula Beach Road around Lumen Christi School
Sign to read: "Your speed is 'x'. Well done / Slow down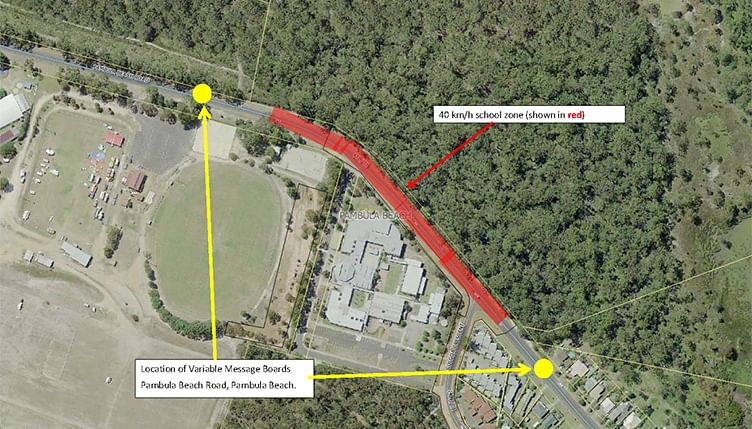 *The Bega Valley Local Traffic Committee consists of representatives from the Roads and Maritime Services (RMS), NSW Police Far South Coast Local Area Command, State Member of Parliament (Member for Bega) and Bega Valley Shire Council and operates under delegation from the RMS who are responsible for traffic control on all New South Wales roads (the LTC is not a committee of Council as defined by the Local Government Act 1993).
Photograph: Vehicle Activated Signs have been installed in an effort to improve driver behaviour in Pambula Beach.
END
---
Rate This Page
---
Share This Page