Detailed design for Merimbula intersection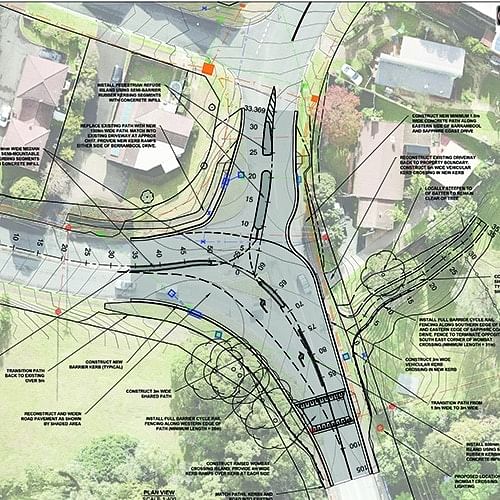 29 September 2021
The detailed design for the reconfiguration, realignment and upgrade of the Sapphire Coast Drive and Berrambool Drive intersection in Merimbula is nearing completion.
Council's Design Engineering Coordinator, Jake Summerell, said this key infrastructure project is based on historical crash data, vehicle movements and community reports, with improved safety and improved traffic flows the key goals.
"Sapphire Coast Drive is our busiest local government road in the shire, carrying approximately 10,000 vehicles per day, and the current configuration means they are giving way to those using the far quieter Berrambool Drive – this simply doesn't make sense," Mr Summerell said.
"Congestion on this major access into Merimbula is a daily occurrence, however the problems magnify during the peak holiday times, frustrating drivers.
"In practice, what we are looking at is similar to the southern side of the bridge in Merimbula where Market Street/Arthur Kaine Drive takes priority over Fishpen Road.
"Along with the intersection reconfiguration, the project also includes road surface upgrades, paths, guttering, drainage, line marking and safety barriers."
With the major design components now settled, the construction tender will go to market in October. Construction is planned to commence following the busy summer holiday period and the project will be completed in the first half of 2022.
This project has been made possible through funding from the Australian Government Black Spot Program.
---
Rate This Page
---
Share This Page