Second cell nearing completion at Central Waste Facility
Thursday 31 March 2016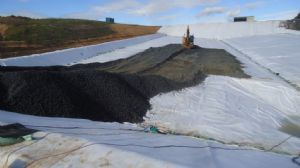 There's further action on securing the ongoing waste disposal needs of the shire, with construction of the second landfill cell at the Wanatta Lane Central Waste Facility nearing completion.
The $1.2 million project meets EPA license requirements and is industry best practice for lined landfill cells.
The liner system consists of a geosynthetic clay liner, overlaid by a high density polyethylene sheet, then a protective layer of geotextile, along with a layer of drainage aggregate and then a final layer of geotextile.
Bega Valley Shire Council Waste Services Manager, Toby Browne says "Electronic leak detection surveys before and after placement of the drainage aggregate point to the integrity of the liner."
Cell one at the Wolumla site came on line in 2013 with a life span of two years, this new cell has a life of over four years. Once cell two is operational cell one will be capped and revegetated.
"The installation of a leachate collection system and extension of the access road with associated storm water drainage works have also been a part of the project," Mr Browne says.
Whelans Group Investments from Bairnsdale was awarded the contract to construct the second cell and commenced work in September 2015.
Photograph: Installation of the liner system in progress in the new Central Waste Facility landfill cell.
END
---
Rate This Page
---
Share This Page